New holders of the 1325-scholarship for women, peace and security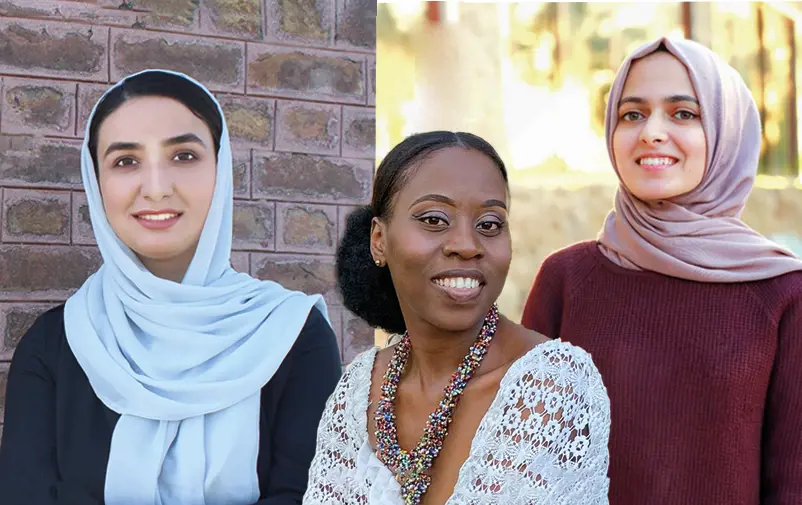 Three new peacebuilders from the Democratic Republic of Congo (DRC), Pales-tine and Afghanistan have been selected as this year's recipients of the schol-arship in support of UN Security Council Resolution 1325 on women, peace and security. For the first time, the scholarship, established in the memory of Zaida Catalán, is awarded to women from all three countries where Catalán worked as seconded from FBA.
The 1325-scholarship targets young peacebuilders at the beginning of their careers, providing them with an opportunity to immerse themselves in issues related to women's participation in peacebuilding and conflict resolution in their local contexts. The scholarship was established by FBA in 2020, on behalf of the Swedish government.
Zaida Catalán was seconded from FBA as a gender expert, serving in several international peace operations between 2011 and 2016, including EU police missions in Afghanistan and Palestine. She and her colleague, Michael Sharp, were brutally murdered in March 2017 during their UN mission to investigate human rights violations in the DRC.
The scholarship is aimed at young peacebuilders working in all three countries. Due to the security situation in Afghanistan, previous scholarship holders have only been selected for Palestine and the DRC, but this year, the FBA has found an alternative solution. The scholarship holder for Afghanistan will work with a host organization in Islamabad, Pakistan.
– Finally, we have been able to nominate recipients for all three countries were Zaida Catalán served as a seconded expert from FBA. With their relevant experiences and strong commitment to driving change, we believe that this year's scholarship recipients will bring a substantial long-term addition to the work of strengthening women's participation and influence in peace processes in their respective country contexts, says Isa Li Axberg, desk officer in charge of the 1325 scholarship at FBA.
Recipients of the 2023 scholarship
This year's recipients of the 1325-scholarship are: Jomana Abunahla, born in 1998 and educated in English Literature at the Al-Azhar University in Gaza; Lydie Mungala, born in 1994 and educated in Peace and Conflict Studies at the Great Zimbabwe University; and Wasima Habib, born in 1997 and with a Bachelor's degree in Information Technology from the University of Afghanistan and a certificate in Project Management within the Development Sector and Non-Governmental Organizations (NGOs).
Despite their different backgrounds and experiences, the scholarship holders are united in their commitment to women's rights and peace issues as well as in their strong ambition to drive change.
Jomana Abunahla is active through volunteering and working for various UN programs such as UNFPA. During the scholarship period, she will work for the organization The Palestinian Initiative for the Promotion of Global Dialogue and Democracy (MIFTAH), based in Ramallah.
– Despite their destructive effect, wars and conflicts have the potential to spark innovative approaches in driven individuals like me, says Abunahla. She hopes the scholarship will give her an opportunity to document human rights violations against women and girls in the West Bank and Gaza Strip.
Lydie Mungala is an active human rights defender with a focus on youth and women's rights. She has been part of the technical secretariat that helped develop the DRC's national action plan for the implementation of UN Resolution 2250 on youth, peace and security. During the year, Mungala will work for Kvinna till Kvinna in the DRC, based in Bukavu.
– This scholarship presents an opportunity for me to deepen my understanding of the UN Security Council Resolution 1325 on women, peace and security, as well as its practical implementation, says Mungala. She hopes to contribute through research, policy documents and recommendations that will help ensure that no woman is left behind in government-led efforts to strengthen women's influence in peace processes and enhance their security.
Wasima Habib worked as a human rights defender in Kabul before being forced to flee to Pakistan after the Taliban takeover in 2021. Through a series of volunteer assignments, she has been fighting for women's fundamental rights, with a particular focus on education, such as training women in cybersecurity. She will work for the human rights organization and think tank Bytes for All (B4A) in Islamabad, Pakistan.
– Women are active agents of peace, yet their crucial role in peacebuilding processes has been largely unrecognized and undervalued, says Habib. Through the scholarship, she hopes to help empower women to take on leadership roles and raise awareness of their critical role in promoting peace and reducing violence in the world.
This year's scholarship holders will spend a year with their host organization. In accordance with the scholarship criteria, they all have a clear and stated ambition to continue working on the theme of women, peace and security in their local context after the end of the scholarship.
FBA is Sweden's expert authority for the implementation of UN Security Resolution 1325, adopted in 2000. Together with subsequent resolutions, it constitutes the women, peace and security agenda, which states that women's participation in preventing, managing and responding to conflicts is essential.
Read more about the 1325-scholarship.
Photo: Jomana Abunahla, Lydie Mungala and Wasima Habib.