FBA in Liberia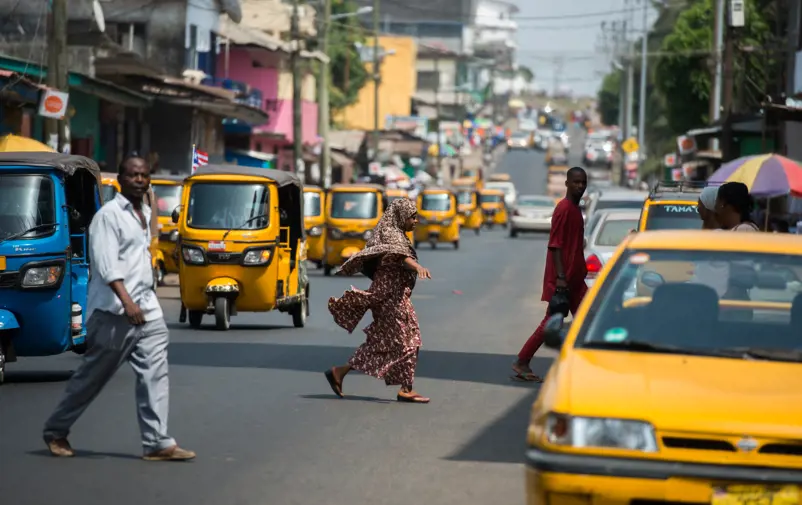 Liberia is among the world's poorest countries, still suffering from the aftermath of civil war and the Ebola outbreak in 2014. FBA is working to promote security and human rights in Liberia.
The civil wars in 1989–2003 disrupted Liberia and still have a negative impact on society. Liberia has taken several important steps towards sustainable peace and democracy since the end of the wars, and is now considered a relatively stable state, but many challenges remain.
State institutions in Liberia are weak and the state is absent in large parts of the country. The political and economic power remains unequally distributed and infrastructure is lacking.
There has been no national reconciliation process addressing the root causes of the conflicts, even though several peacebuilding efforts are underway.
In the beginning of 2018, George Weah was installed as the new president. It was the first democratic and peaceful transfer of power in Liberia for over 70 years. Shortly thereafter, the UN peace operation in Liberia was closed. UNMIL was present in the country for 15 years and had 16,000 employees – both military, police and civilian staff – at its peak.
Within the framework of the strategy for Sweden's development cooperation with Liberia, FBA is focused on three areas:
Dialogue and peace mediation
Almost 70 percent of Liberia's population is under 30 years of age. Despite of this, young people are often excluded from politics, and they tend to be viewed as potential sources of violence. Platforms to support youth engagement in efforts for peace and security are lacking, especially platforms including youth outside of Monrovia. FBA has established a leadership programme for young peacebuilders from all Liberian counties. The programme was launched in 2018, with participants representing various civil society organizations. New rounds of the programme, with new participants, is arranged in 2019 and 2020. The aim of the programme is to enhance the capacity of the participants to take part in peacebuilding in Liberia, through training on leadership and tools for conflict prevention and conflict solution. The participants are also invited to take part in dialogue forums with national decision-makers.
Security sector reform
The Liberian security sector, including for example the police, is facing many challenges. It has no presence in large parts of the country and the rural population is often depending upon informal actors for security. In an effort to improve state presence and oversight, local security councils have been established in every county in Liberia. They provide the National Security Council with information about the situation in each area. FBA is running two capacity-strengthening programmes for key individuals in the local security councils as well as the national council. The aim is to contribute to improved efficiency, and to strengthen transparency, accountability and democratic oversight of the security sector in Liberia.
Rule of law, human rights and election support
Weak institutions and widespread corruption have led to public mistrust in state authorities. Not the least among the rural population. A decentralization process is underway in order to ensure better public service for all citizens. FBA offers training on rule of law, professional ethics, transparency and accountability for Liberian civil servants.
Click here to read the entire strategy for Sweden's development cooperation with Liberia 2021–2025.
Read more
Liberia post-Ebola – FBA an important contributor to Sweden's development cooperation strategy
"I had the opportunity to look at my work from a different perspective"
Reconciliation, diversity and tolerance on the agenda at youth conference in Liberia
FBA launches leadership programme for young peacebuilders in Liberia
Voices from FBA's leadership programme in Liberia
Integrity and accountability important for a society free from corruption
Factsheet about FBA's work in Liberia (English and Swedish)
Photo: UN Photo/Albert González Farran