A well-known peace builder in Liberia and an inspiration for many young peace activists, Gwendolyn Myers is an influential leader devoted to young people's rights. After participating in FBA's course on dialogue and mediation she shared her view on challenges and opportunities for young people in the work for peace.
2017-01-16 11:07
Latest news
2016-12-08 16:11

2016-12-05 07:00
MOST READ
2016-11-10 16:17

2016-08-08 11:33

2016-06-22 15:51
Read our publications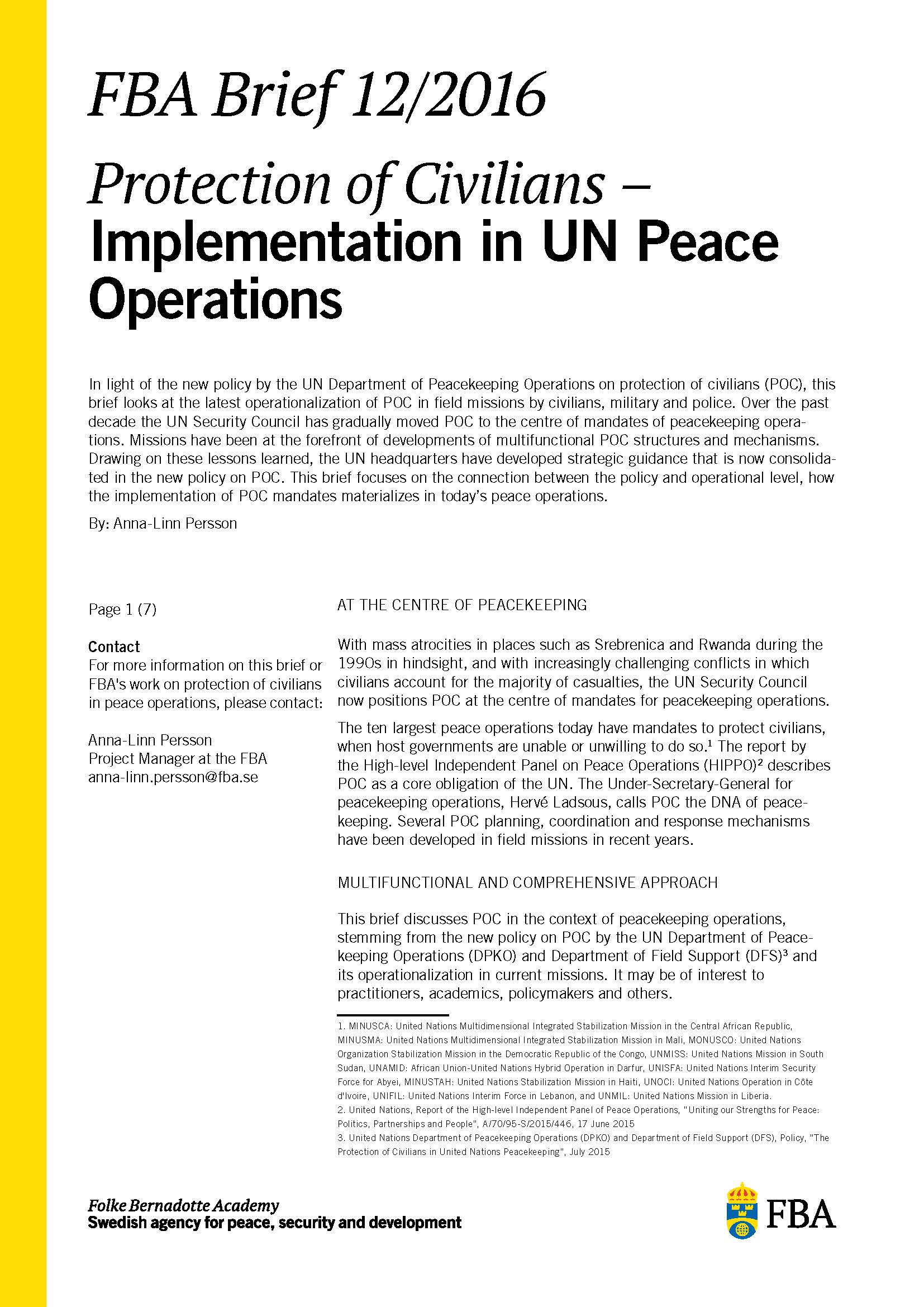 In light of the new policy by the UN Department of Peacekeeping Operations on protection of civilians (POC), this brief looks at the latest operationalization of POC in field missions by civilians, military and police.
Documents
THE FBA BLOG
Visa:
Posted by Robert Blair

Effective, legitimate police forces are widely viewed as necessary for sustained peace, good governance and economic growth. In post-conflict settings, however, many citizens (rightly) perceive the police as corrupt, biased, inept and inaccessible. As a result, they often seek redress for grievances through illegal or extrajudicial mechanisms, like vigilantism and mob violence. Meanwhile, crime and violence persist at the local level as these countries make the sometimes rocky transition to national peace.

These dynamics raise a number ... Read entire post »

2017-01-09 12:03

Posted by Ludmila Ceban

We finished counting the votes in the historical presidential poll in Moldova close to midnight. Although no long queues were expected at the Moldovan Embassy in Stockholm – the only designated voting section for Sweden, Norway and Finland – we were pleasantly surprised with the turnout of the roughly 550 registered Moldovans in the three Nordic countries[1] beating its record in the first round of elections on 30 October 2016.

A drop in the sea, one might ... Read entire post »

2016-11-02 18:17

Posted by Andreas Berg

Regardless of the weather (which indeed is frequently poor), a stroll around the central European Quarter of Brussels is an impressive experience. I was reminded of this when I returned to the European capital for a new assignment for the FBA this summer, as Strategic Planner within the European External Action Service (EEAS.) Walking up Rue de la Loi and arriving at Place Schuman, you see in every direction the temples of the European project in ... Read entire post »

2016-10-19 11:05