For more than 20 years, Emma Leslie has been working with conflict transformation and peace-building around the world. When a thousand women working for peace were nominated for the Nobel Peace Prize in 2005, Emma was one of them. She is also one of the trainers at the FBA's dialogue and mediation course, and during a visit in Sweden, she talked about mediation, women's role in peace processes and the everyday work of solving conflicts.
2016-10-07 14:32
Latest news
2016-09-27 11:07

2016-09-22 15:08
MOST READ
2016-06-17 11:10

2016-08-08 11:33

2016-06-22 15:51
Read our publications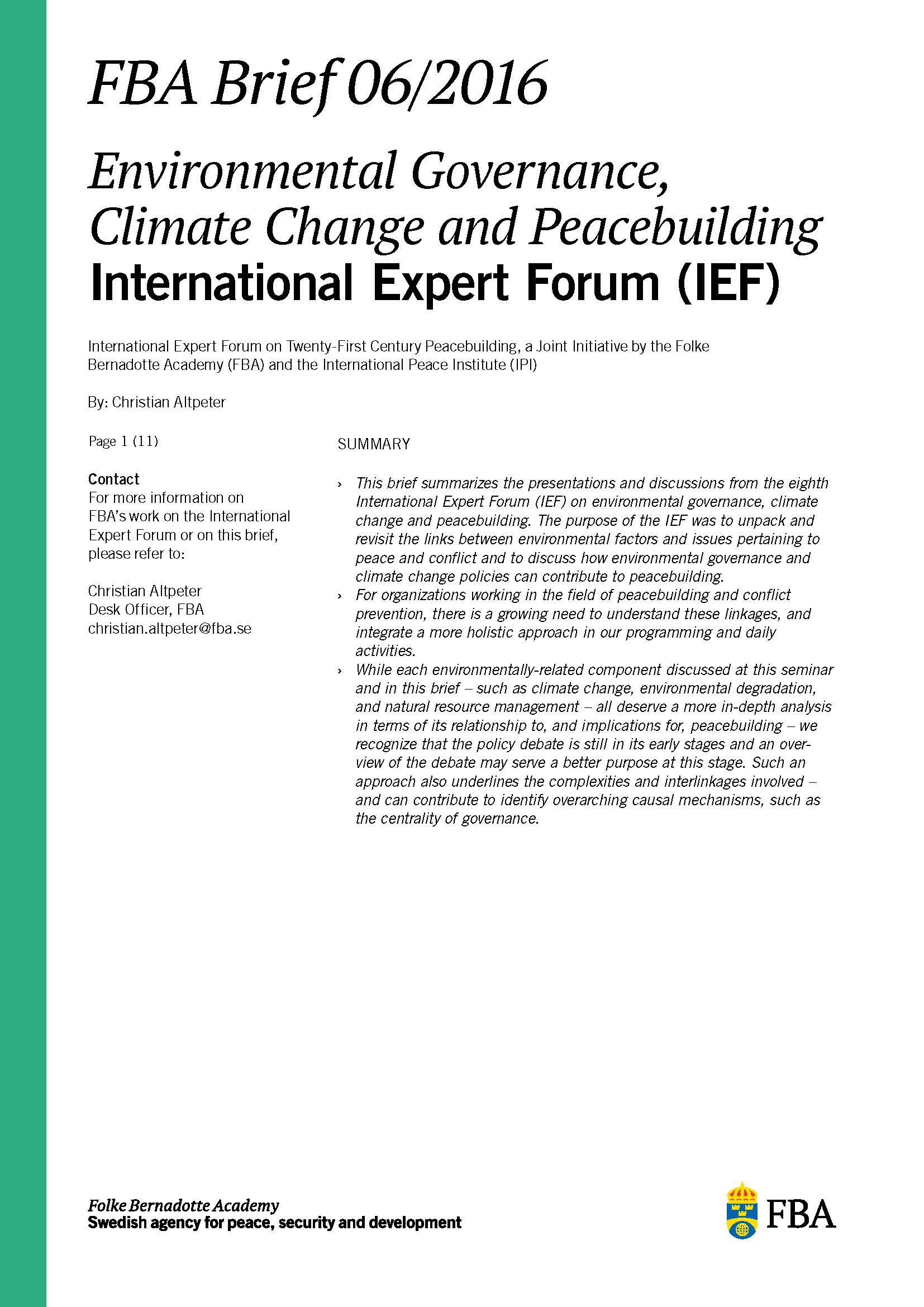 This FBA brief summarizes the presentations and discussions from the eighth International Expert Forum (IEF) on environmental governance, climate change and peacebuilding.
Documents
THE FBA BLOG
Visa:
Posted by Andreas Berg

Regardless of the weather (which indeed is frequently poor), a stroll around the central European Quarter of Brussels is an impressive experience. I was reminded of this when I returned to the European capital for a new assignment for the FBA this summer, as Strategic Planner within the European External Action Service (EEAS.) Walking up Rue de la Loi and arriving at Place Schuman, you see in every direction the temples of the European project in ... Read entire post »

2016-10-19 11:05

Posted by Shane Quinn

The first question that most probably comes to mind is, why this title? I just happened to be reading Ernest Hemingway's Farewell to Arms at the same time that I am packing my bags to leave FBA after three years (six, if I count working as a consultant for FBA's prolific and innovative Rule of Law Programme).

Hemingway's book is set during a time of unending war, displaced populations and uncertainty across Europe. The backdrop is the ... Read entire post »

2016-09-06 16:00

Posted by Richard Sannerholm

From actors to institutions

It's official, institutions are back in peacebuilding and development after having played an ambivalent role for some time. While seen as important for conflict prevention and post-conflict reconstruction, there has also been a prevailing idea that attending too much to institutions is problematic, and that institutional reform means top-down, technical, elite-centred approaches, lacking in inclusiveness and public participation. A result of this notion was to focus on 'actors' and 'stakeholders', as the development ... Read entire post »

2016-03-16 12:05