The FBA is commissioned to support the continued peace process in Colombia, according to Sweden's new development cooperation strategy for the war-torn country. "It is very positive that a peace accord is now in place in Colombia, and I am very pleased to announce that the FBA will continue to contribute to the peace process", said FBA Director-General Sven-Eric Söder at a seminar arranged by the FBA on the recent development in Colombia.
2016-09-22 15:08
Latest news
2016-09-15 12:40

2016-09-11 21:04
MOST READ
2016-06-17 11:10

2016-08-08 11:33

2016-06-22 15:51
Read our publications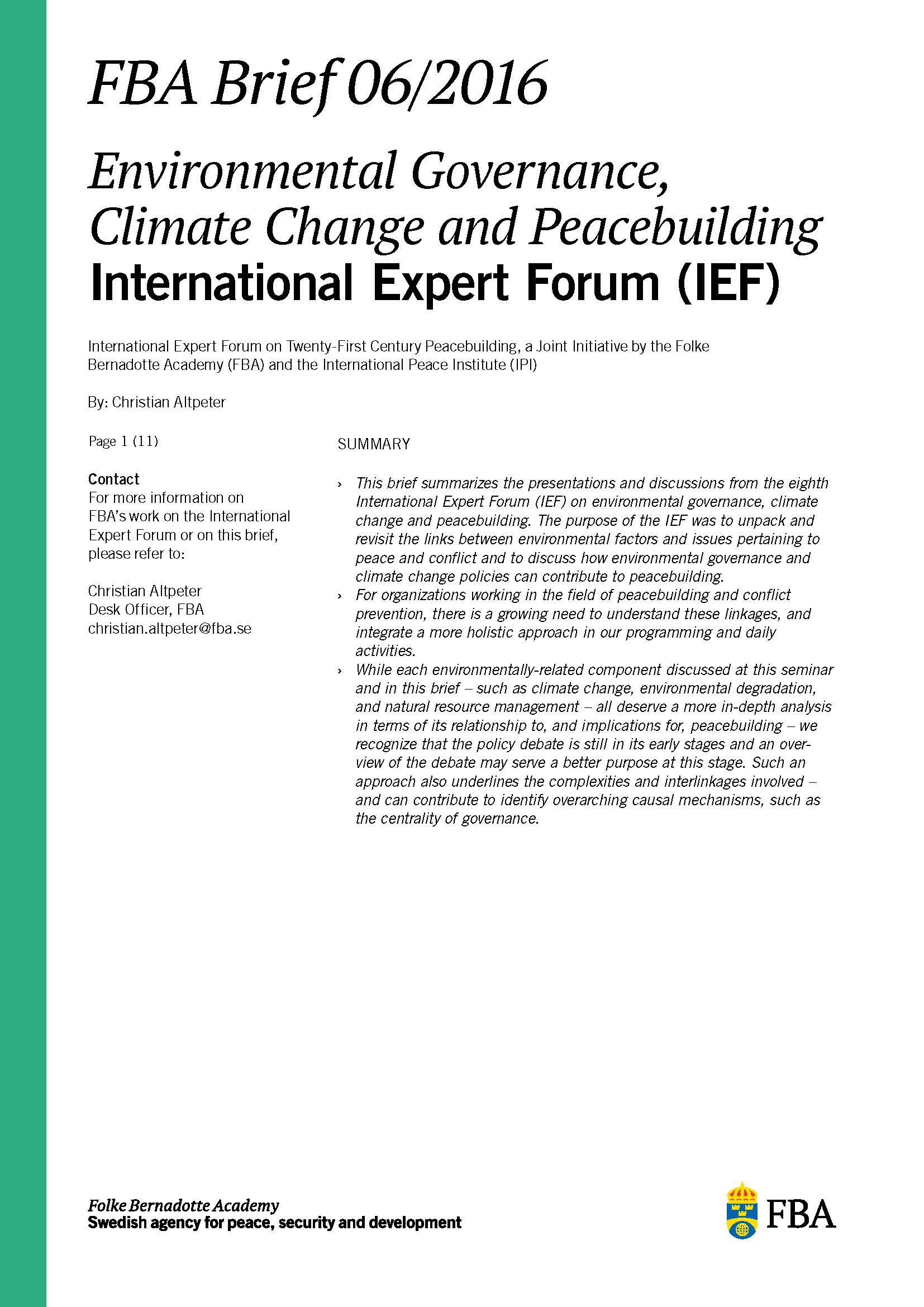 This FBA brief summarizes the presentations and discussions from the eighth International Expert Forum (IEF) on environmental governance, climate change and peacebuilding.
Documents
THE FBA BLOG
Visa:
Posted by Shane Quinn

The first question that most probably comes to mind is, why this title? I just happened to be reading Ernest Hemingway's Farewell to Arms at the same time that I am packing my bags to leave FBA after three years (six, if I count working as a consultant for FBA's prolific and innovative Rule of Law Programme).

Hemingway's book is set during a time of unending war, displaced populations and uncertainty across Europe. The backdrop is the ... Read entire post »

2016-09-06 16:00

Posted by Richard Sannerholm

From actors to institutions

It's official, institutions are back in peacebuilding and development after having played an ambivalent role for some time. While seen as important for conflict prevention and post-conflict reconstruction, there has also been a prevailing idea that attending too much to institutions is problematic, and that institutional reform means top-down, technical, elite-centred approaches, lacking in inclusiveness and public participation. A result of this notion was to focus on 'actors' and 'stakeholders', as the development ... Read entire post »

2016-03-16 12:05

Posted by Shane Quinn

September 2015 was a big month in terms of reshaping the development discourse and sharpening the focus of the much maligned Millennium Development Goals (MDGs). And not a moment too soon. What we got were 17 Sustainable Development Goals (SDGs) that are intended to pave the way for more measurable outcomes that are grounded in specific objectives related to security, human rights, governance and the rule of law. The SDGs are effectively about unambiguous objectives rather ... Read entire post »

2015-12-17 13:05