How can Liberia's youth play a more important role in the work for peace and reconciliation? FBA aims to enhance youth participation in the peace process in Liberia with a new leadership programme. The purpose is to strengthen networks and capacity among young peacebuilders to prevent and solve conflicts locally.
2018-02-09 21:42
Latest news
2018-01-23 09:57

2017-12-22 14:37
MOST READ
2017-08-03 11:05

2018-02-07 13:35

2017-03-20 09:10
Read our publications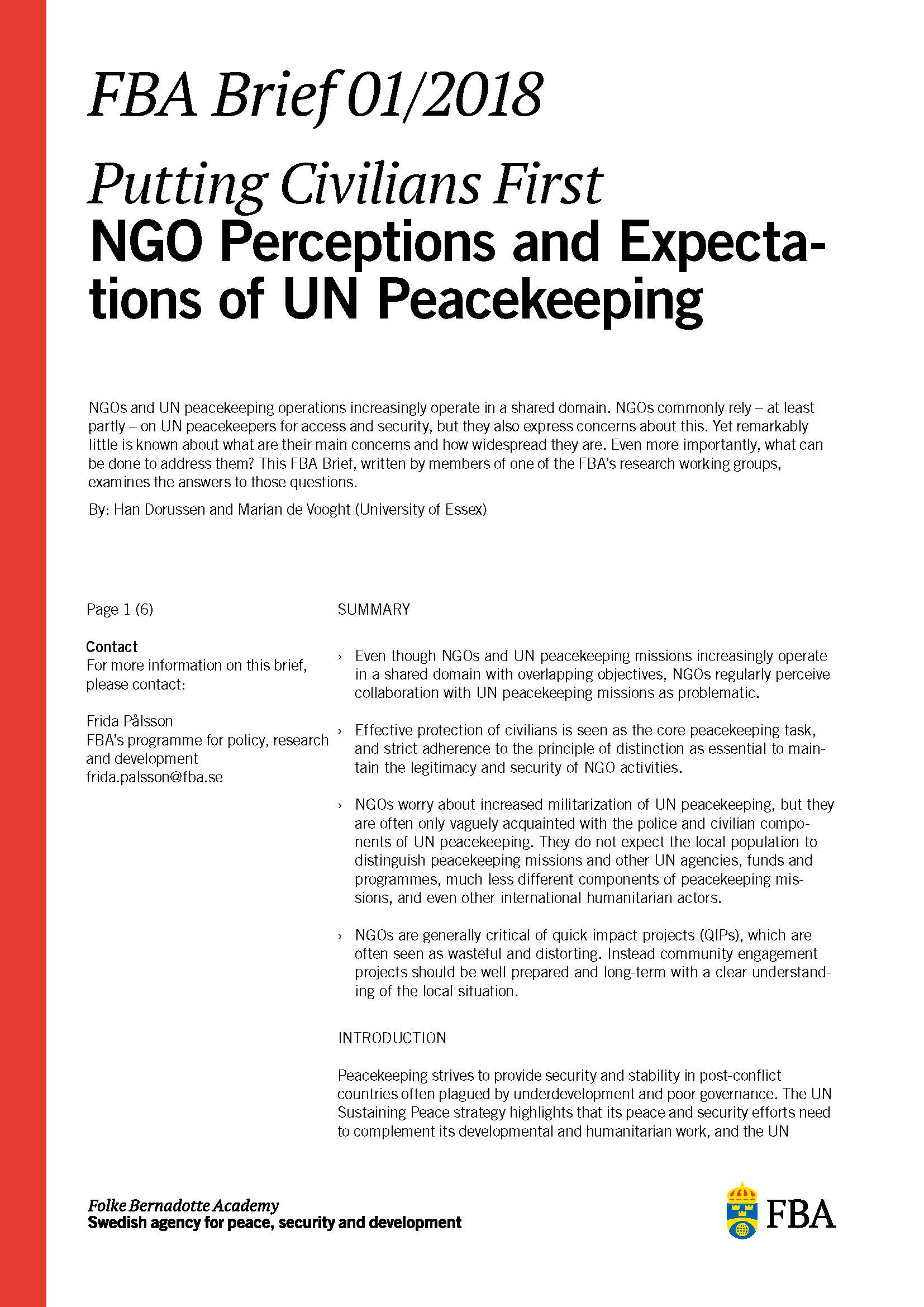 NGOs and UN peacekeeping operations increasingly operate in a shared domain. NGOs commonly rely – at least partly – on UN peacekeepers for access and security, but they also express concerns about this. Yet remarkably little is known about what are their main concerns and how widespread they are. Even more importantly, what can be done to address them? This FBA Brief, written by members of one of the FBA's research working groups, examines the answers to those questions.
Documents
THE FBA BLOG
Visa:
Posted by Lotta Ekvall

What is the OSCE? That is one of the most frequent questions I am asked when I tell people that I am on secondment from the FBA to the OSCE Secretariat in Vienna, Austria, where I work as Gender Adviser.

OSCE, the Organization for Security and Co-operation in Europe, was established in 1973. Today the OSCE has 57 member states, in Europe but also in North America and North and Central Asia. The organization addresses a wide ... Read entire post »

2018-02-21 10:06

Posted by Ruth Bourke Berglund

BOOM! Despite being prepared, and standing behind a reinforced concrete wall, we are all taken by surprise as the shockwave hits the wall followed by earth and debris raining down on the roof above. Somewhat shaken we remove our earplugs and await the signal "All clear" from the instructor before allowing the course participants to walk around to see the effects of 100 grams of explosives. Just a regular day on the job….

The course "Protection against ... Read entire post »

2018-02-15 14:25

Posted by Andreas Berg

The distinct smell of coal dust creeps into your nose as soon as you step off the plane in Pristina, a strange and familiar welcome back greeting for those of us intimate with this small corner of Europe. I felt it again in November 2017 when I came to Kosovo for a few days of visiting old friends and colleagues. For anyone with strong memories of living in a foreign country, you will remember the joys ... Read entire post »

2017-12-13 11:21