FBA is now launching a peace-building programme in the Democratic Republic of Congo (DRC). The 24 participants have been selected on the basis of their ability to influence the development in the war-torn eastern parts of the country.
2017-03-20 09:10
MOST READ
2017-02-01 14:28

2016-12-08 16:11

2017-02-27 10:13
Read our publications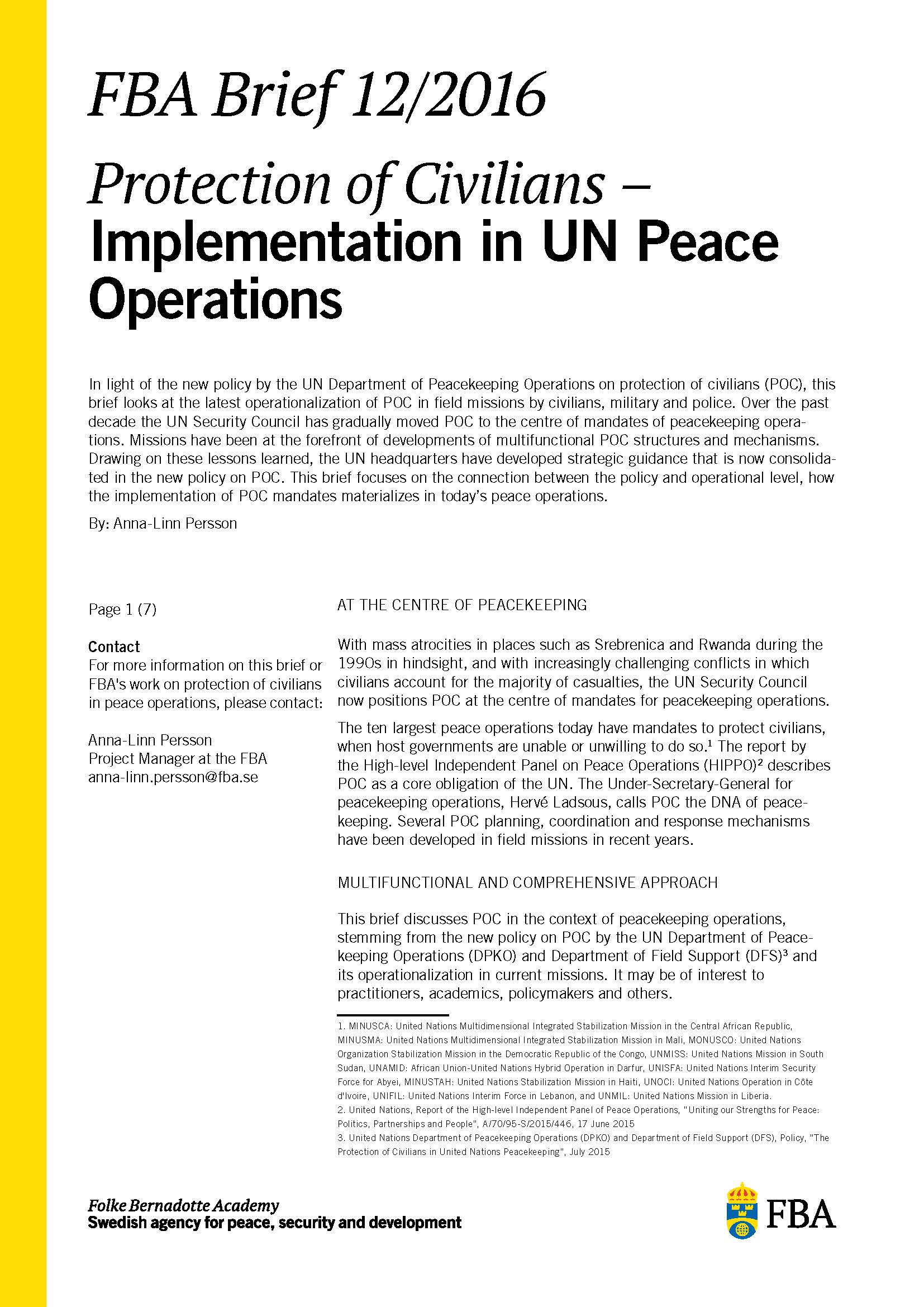 In light of the new policy by the UN Department of Peacekeeping Operations on protection of civilians (POC), this brief looks at the latest operationalization of POC in field missions by civilians, military and police.
Documents
THE FBA BLOG
Visa:
Posted by Robert Hall

Elections are always unique turning points in a country's history so being an election observer has always felt like a privilege. Now I have been given the rare opportunity to observe history being made in Turkey. Not only is it a constitutional referendum on April 16 in Turkey, to decide the form of government some 80 million will live under; it is carried out in a declared state of emergency with military operations ongoing against state-identified ... Read entire post »

2017-04-12 14:35

Posted by Christian Altpeter

When we read about the role of natural resources in countries affected by fragility or conflict, the stories are usually grim. We read about armed groups, criminal gangs and governments fighting over land and access to valuable resources, about exploitation of communities and destruction of the environment. The resources fuel the conflict as armed groups exploit the natural wealth of the territories they control. In West Africa, blood diamonds funded rebel groups, the so-called Islamic State ... Read entire post »

2017-03-29 11:10

Posted by Ludmila Ceban

Growing up in a post-soviet environment, you see how lengthy and cumbersome service delivery is when you deal with government authorities. You see that mechanisms for appeal are hardly a threat to bureaucracies. And you tolerate it, because the demand for accountability is typically low and it's not like your rights and entitlement to fair and responsible administrations are spelled out to you in post-soviet schools either. At least that wasn't the case in my school. ... Read entire post »

2017-02-14 11:34