During the last ten years, the FBA and the United Nations Department of Political Affairs, UNDPA, have worked together to strengthen the UN's capacity to prevent and resolve conflicts. The cooperation was commemorated during a high-level meeting at the UN headquarters in New York, where a discussion was held on todays' complex conflict patterns and challenges.
2016-12-02 10:41
Latest news
2016-12-05 07:00

2016-11-10 16:17
MOST READ
2016-06-17 11:10

2016-08-08 11:33

2016-06-22 15:51
Read our publications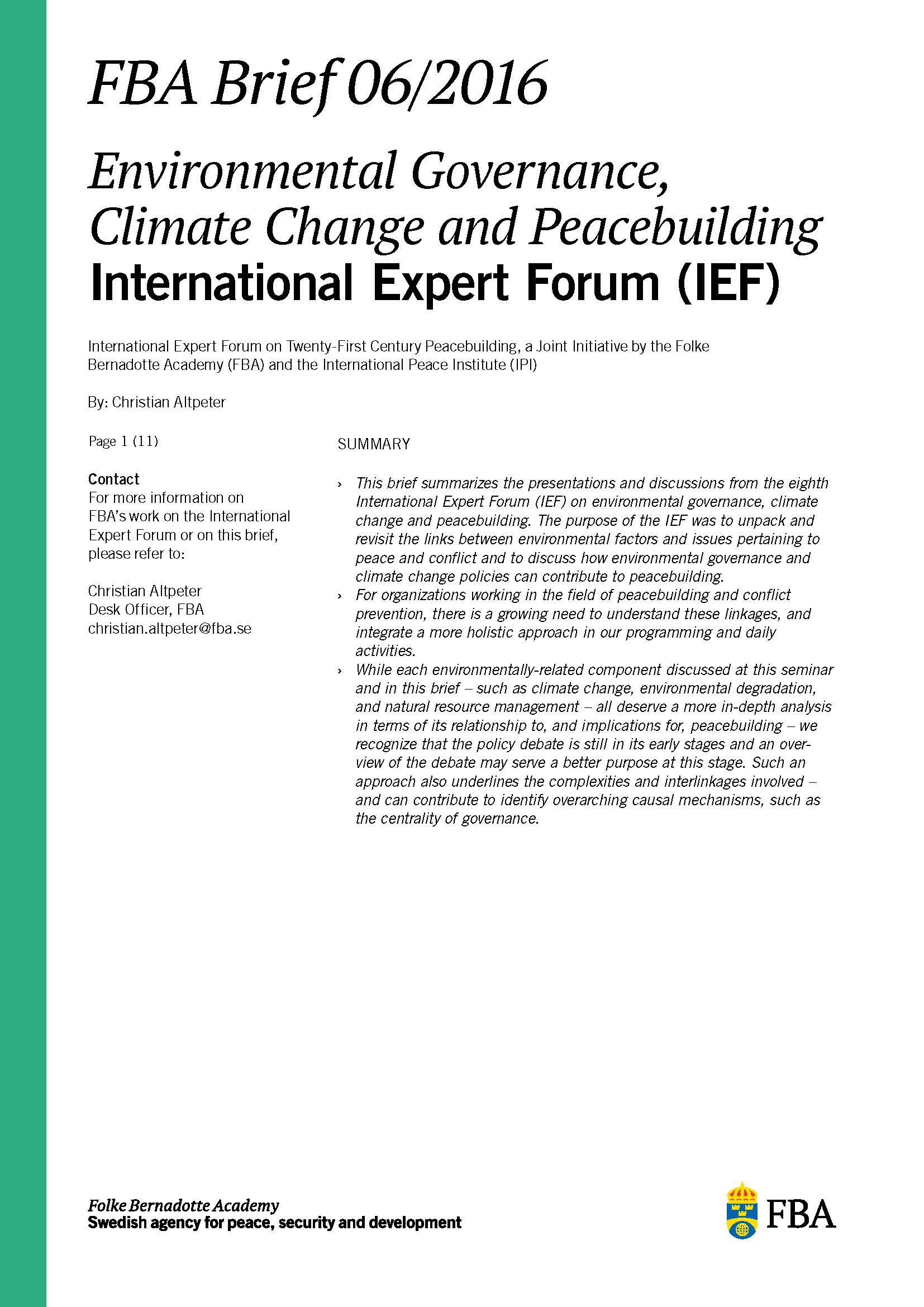 This FBA brief summarizes the presentations and discussions from the eighth International Expert Forum (IEF) on environmental governance, climate change and peacebuilding.
Documents
THE FBA BLOG
Visa:
Posted by Ludmila Ceban

We finished counting the votes in the historical presidential poll in Moldova close to midnight. Although no long queues were expected at the Moldovan Embassy in Stockholm – the only designated voting section for Sweden, Norway and Finland – we were pleasantly surprised with the turnout of the roughly 550 registered Moldovans in the three Nordic countries[1] beating its record in the first round of elections on 30 October 2016.

A drop in the sea, one might ... Read entire post »

2016-11-02 18:17

Posted by Andreas Berg

Regardless of the weather (which indeed is frequently poor), a stroll around the central European Quarter of Brussels is an impressive experience. I was reminded of this when I returned to the European capital for a new assignment for the FBA this summer, as Strategic Planner within the European External Action Service (EEAS.) Walking up Rue de la Loi and arriving at Place Schuman, you see in every direction the temples of the European project in ... Read entire post »

2016-10-19 11:05

Posted by Shane Quinn

The first question that most probably comes to mind is, why this title? I just happened to be reading Ernest Hemingway's Farewell to Arms at the same time that I am packing my bags to leave FBA after three years (six, if I count working as a consultant for FBA's prolific and innovative Rule of Law Programme).

Hemingway's book is set during a time of unending war, displaced populations and uncertainty across Europe. The backdrop is the ... Read entire post »

2016-09-06 16:00