FBA in Somalia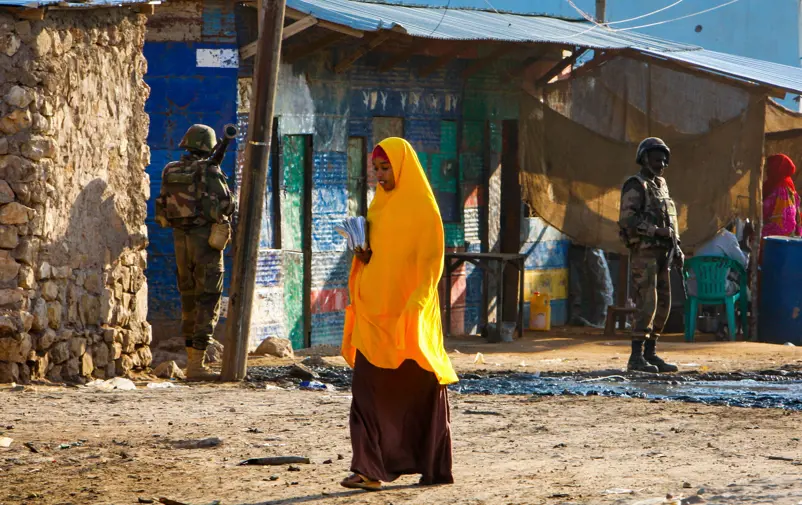 For almost 40 years, Somalia has been plagued by violence and insurgency. But Somalia is now rebuilding itself. FBA promotes the participation of women and youth in the ongoing peace processes.
When the military regime led by Siad Barre was overthrown in 1991, Somalia fell apart. The country has been devoid of centralized government control since then.
In 2012, however, a federal government was installed in the capital city of Mogadishu, and a number of federal member states were established. Government forces, with support from troops from the African Union Mission in Somalia (AMISOM), are fighting to recapture large parts of south and central Somalia still controlled by the Al-Shabaab terrorist group.
The aim is to reduce the influence of Al-Shabaab, so that AMISOM can eventually hand over all security responsibilities to the Somali state.
There are also local conflicts in various parts of Somalia over access to water and grazing land. The impacts of climate change could further aggravate the situation.
Within the framework of Sweden's development cooperation with Somalia, FBA is focused on the following areas:
Women, peace and security
Large groups in the Somali society lack social, economic and political influence. FBA strives to improve the conditions for particularly women and youth's participation in peacebuilding and statebuilding processes. For example, FBA supports the Somali Electoral Commission and their preparations for the general elections scheduled for 2020–2021. The aim is to achieve women and men's equal participation in elections.
Security sector reform
Somalia has been lacking a unified security sector for decades. Public trust in security actors is low, and both militias and public security providers have been accused of abusing civilians. FBA strives to enable inclusive and sustainable security sector reform in Somalia, with the objective to construct a well-functioning security sector capable of exercising control of the entire state territory, and guaranteeing the safety of all citizens.
Click here to read the entire strategy for Sweden's development cooperation with Somalia 2018–2022.
Read more
Somalia to be rebuilt after 20 years of war
Photo: UN Photo/Stuart Price