New holders of the 1325-scholarship for women, peace and security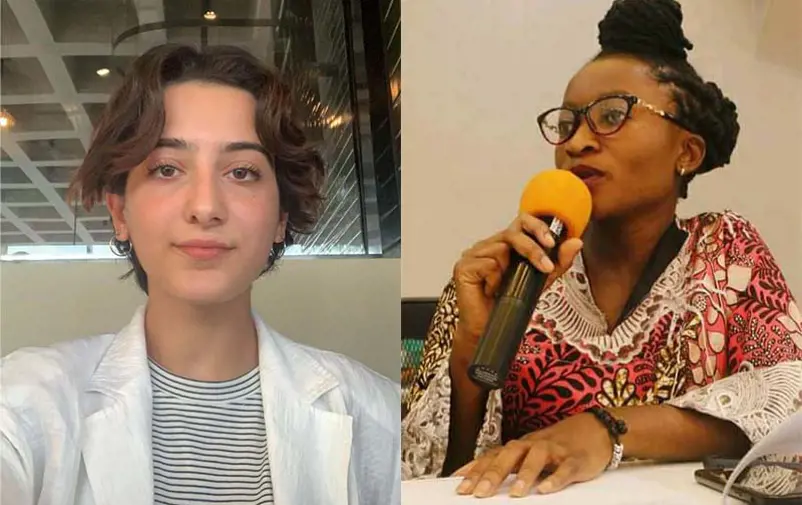 Judith Maroy from the Democratic Republic of the Congo (DRC) and Ola Salem from Palestine are the 2022 recipients of the 1325-scholarship in support of women, peace and security in memory of Zaida Catalán. They will work with the organisations Kvinna till Kvinna in the DRC and MIFTAH in Palestine during the scholarship period.
The 1325-scholarship targets young peacebuilders at the beginning of their career, with a confirmed strong dedication to the women, peace and security agenda and efforts for gender equality. It was established in 2020 in memory of Zaida Catalán, who was seconded from FBA as gender expert, serving in the DRC, in Palestine and in Afghanistan.
Judith Maroy, born in 1987, is a journalist with a degree in economics. She is currently executive director of La Prunelle, a human rights organisation based in Bukavu. Ola Salem, born in 1999, is an international law student and researcher. She has recently finished an internship at the human rights organisation Al-Haq. They will start their work at Kvinna till Kvinna and MIFTAH in early 2022.
FBA is Sweden's expert agency for implementing UN Security Council Resolution 1325 adopted in 2000. Together with subsequent resolutions, it constitutes the agenda for women, peace and security. The agenda states that including women in the prevention, management and solution of conflicts is crucial for sustainable peace and security. The resolutions also highlight the need to improve the protection of women and girls against violence and the consequences of conflicts.
Read more about the 1325-scholarship.
Photo: Ola Salem and Judith Maroy.