Rafal Janahi, 31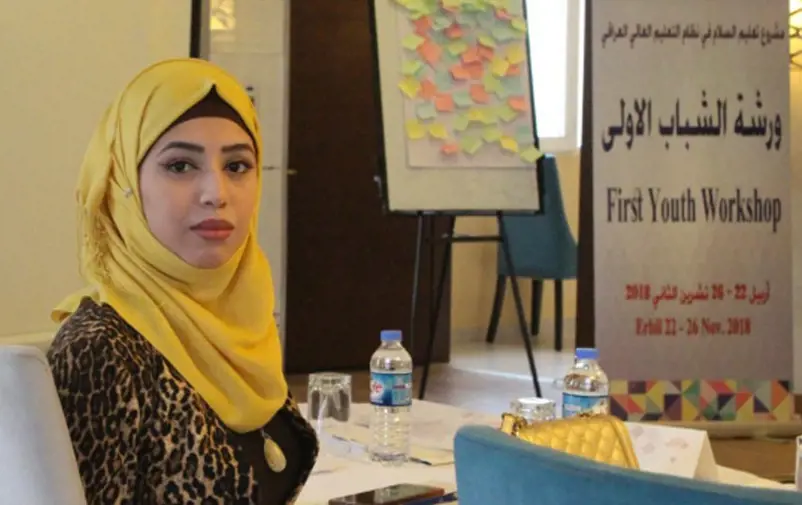 You work for the Prosperity Maker For Women Empowerment Company. What sort of company is that?
– It is a social enterprise with businesses in many different places in Iraq, among them the city of Nasiriya in Dhi Qar province, which is where I live. We offer vocational training and employment for women living in hardship. Many of them are divorced or widowed, and need to find a way to provide for themselves. Lately, we have also begun employing young people – both men and women. They create things such as accessories, jewelry, candles and wooden artwork, which we export and sell for profit.
What is your role within the company?
– I have been with the company for about a year. So far, I have written a number of reports about traditional handicrafts in Iraq, and I have recruited several senior artisans to serve as teachers in our trainings. They get an opportunity to pass on all their important knowledge, while the women and youth that come to our trainings get the chance to learn new skills that can provide them with an income.
What made you aspire to this kind of work?
– My mother is an arts teacher, and she made me interested in arts and crafts from a very early age. Then I ended up working to fight poverty as an adult. I have worked with poverty-eradication for the Iraqi Ministry of Labour and Social Affairs, and I have studied economic vulnerability among the population for the statistics unit at the Iraqi Ministry of Planning. Then I found this job, which gives me an opportunity to work with both arts and with helping people to find a way to generate income, so that they can obtain a decent standard of living.
Why did you want to participate in FBA's programme for young peacebuilders in Iraq?
– All efforts for peace in Iraq are needed. When I heard of FBA's programme, I immediately knew that I wanted to participate. I have already made use of some of the dialogue and mediation skills that I learned during the first training session, while dealing with conflicts in my family and at work.
What is the situation like right now in southern Iraq, where you live?
– I live with my mother in Nasiriya, I am unmarried without children. The security situation here is difficult at the moment because of all the demonstrations. The schools are closed and many protesters have been arrested, injured or killed.
Which are the biggest challenges in Iraq according to you, and what are your hopes for the future?
– The security situation and the instability are the greatest challenges right now. I hope that things will calm down, and that I and all my fellow Iraqis get to live decent lives in peace. Personally, I would also like to travel and see the world – and I want to plant roses in all the streets of Iraq.