David is observing the elections in Nigeria, a country with a history of poll-related violence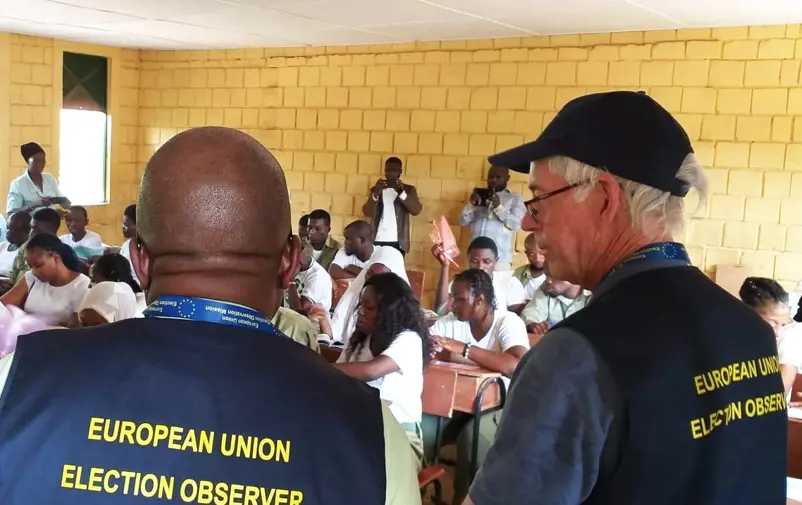 David (to the right) in Nigeria with the EU election observation mission.
On February 16, presidential and parliamentary elections will be held in Nigeria. David Dahmén from Linköping in Sweden is on deployment from FBA to the EU election observation mission in the country. Nigeria has a history of poll-related violence. Over 800 people were killed in connection with the 2011 elections, and the latest election in 2015 saw around hundred fatalities.
David, you have been an election observer for over 20 years. How would you describe the situation in Nigeria?
– I am on deployment as a long-term observer, spending a total of two months based in the city of Osogbo in southwestern Nigeria. There is a risk of violence in connection with the election campaign, including violence directed at me and my observer colleagues. The EU places great importance on security and we always have armed police officers with us, wherever we may go. Other forms of violence, outside of electoral violence, is a threat as well. Heavily armed robbery gangs regularly carry out attacks on the roads here, for example.
Have you witnessed any signs of electoral violence in Nigeria?
– Me and my closest colleague have met some aggressive young men. But the police officers that are always with us have warded them off. Recently, one of the mission's security officers also told me that he had seen dead people on the road, they were killed in a robbery attack. It is, however, not sure that it has anything to do with the elections.
How can election observation missions prevent electoral violence?
– Our presence in the polling stations on election day may discourage perpetrators of violence. It is not unusual for voters to come by and thank us for being there. If violence nevertheless occurs, our standard operating procedure is to quickly withdraw and contact our security officers and the local police, that hopefully can intervene. International election observation missions also do good in the long term, contributing to a peaceful and democratic development.