Appreciated training on security sector reform has reached more than 1,000 participants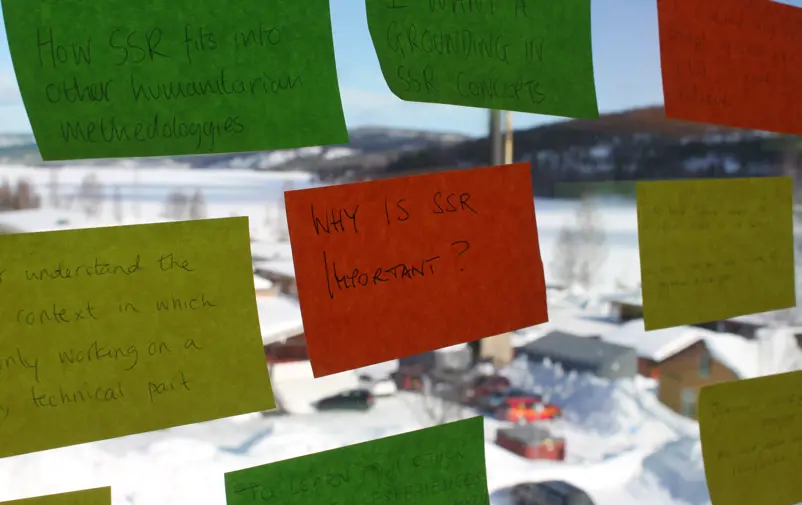 Instructive and professional. That is how the participants perceive FBA's trainings on security sector reform. Still, many participants struggle to put their newly-gained knowledge into practice and make a change, according to a recent evaluation. FBA will now focus on creating sustainable results that contribute to change.
Over the past ten years more than 1,000 persons from the whole world have taken part in FBA's trainings on security sector reform (SSR). One of them is Fartun Mohamed Ibrahim, SSR Officer for the United Nations assistance mission in Somalia (UNSOM). Her career choice is perhaps not a coincidence. Her father was killed by armed forces during the civil war in Somalia and she grew up in Dadaab, the world's largest refugee camp in north-east Kenya.

– Today the security sector in Somalia is made up of ex-militia members that have committed crimes. As a consequence, society's trust in the security sector is broken, and those people cannot staff the police, military and the penal system in the future. Instead they need assistance to find new occupations to prevent them from joining Al-Shabaab or start clan wars.

According to a national plan, Somali authorities should take over responsibility for the country's security from the African Union Mission in Somalia (AMISOM) troops. But democratization of the security sector in a war-torn country like Somalia is not achieved overnight. For the last year, Fartun Mohamed Ibrahim has been acting as strategic SSR adviser to the government and coordinating capacity building programmes such as trainings and workshops. She says that there are many challenges.

The evaluation of FBA's SSR trainings in the past ten years was carried out by an independent consultant. The proportion between female and male participants has been relatively equal: 56 per cent men and 44 per cent women. The participants express appreciation for having been equipped with a range of tools to strengthen female active participation in the security sector.

Sweden has a good international reputation for its SSR work with a focus on democratic governance, and Sweden is at the forefront when it comes to gender mainstreaming of the security sector and creating inclusive processes – areas where the evaluation of FBA's trainings shows good results.

Fartun Mohamed Ibrahim applied to FBA's SSR course out of curiosity. She wanted to know how a developed country like Sweden establishes and maintains its democratic institutions. She says that the course gave her many useful insights.

– I realized that we need a holistic approach to security sector reform, to make it work in the long run and for people to be able to feel safe. Security is not only about the military, the police and the penal system. Human security, humanitarian issues, human rights and prevention of violent extremism are equally important, she states.

The evaluation puts forward a number of conclusions that FBA will now take into consideration. Among other things, it concludes that most participants find the training appropriate for their professional needs, but that the content of the course has to be adapted to new security challenges that affect SSR work, like migration and cyber threats. The former participants also wish for more field training, in order to make it easier to participate for those who do not have the possibility to travel to a training in Sweden. In addition, the evaluation shows that there is a need to establish routines for the follow-up of long-term results.

Måns Hanssen, desk officer at the programme for security sector reform, says that FBA will prioritize some areas in the agency's future work.

– We look at how we can develop our methods for evaluation. Moreover, we look into how we can improve our strategic co-operation with key organizations at international and national level, to contribute to palpable change in their work with SSR. In connection to this, we investigate various ways of involving the course participants in our work to set goals for our trainings in countries where we have a long-term and strategic commitment, such as Mali, Liberia and Colombia. We also want to create a platform for continuous learning where former participants can continue to exchange experience, he says.

So far, civil society has not been part of the work on reforming the Somali security sector. Fartun Mohamed Ibrahim promotes the inclusion of civil society in this work. She has already initiated a programme to involve more women and young people in the process, and she finds that the methods she acquired at the FBA course helps her make a good case and have constructive discussions with antagonists.

– People have to be included, otherwise we will not succeed. Opening up for dialogue does not require plenty of resources. At the same time you can achieve a lot, and get good ideas that can bring the work forward.