Spreading the skills of conflict prevention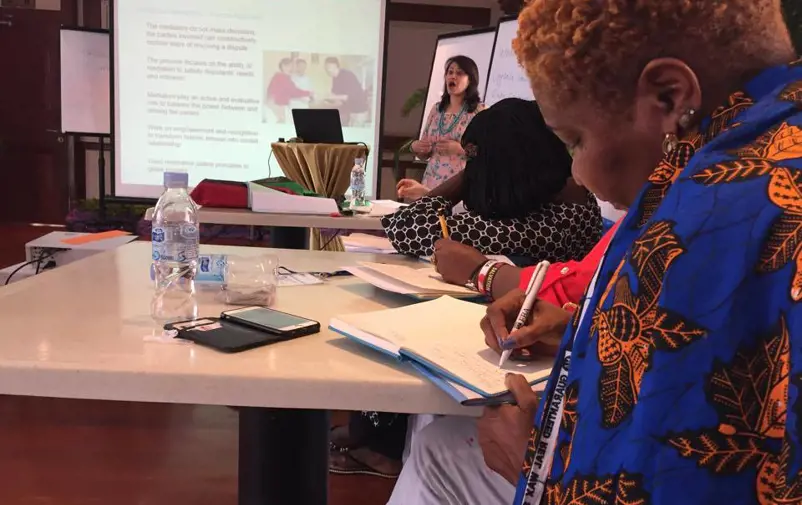 Women from Liberia, Afghanistan, Colombia and Palestine have been participating in the FBA's dialogue and mediation programme. All of the participants are working to build peace in their countries and have launched new peace initiatives in connection to the programme.
How can dialogue and mediation be used as a tool to prevent violent conflict? This was one of the themes discussed at a workshop in Cambodia in March. During the workshop in Siem Reap the peace process between the Philippine government and the Moro Islamic Liberation Front (MILF) was also discussed as a case study. Professor Miriam Coronel-Ferrer, the first woman in the world to sign a peace agreement with an armed group, shared her experiences with the 15 participants.
Hasina Safi, adviser to the High Peace Council in Afghanistan and executive director for Afghan Women's Network with 5,000 women leaders, was one of the participants. She has for many years been engaged in negotiations and peace processes. She explains that the FBA's dialogue and mediation programme has provided her with an opportunity to strengthen her skills and confidence.
– I have strengthened my capacity, because now I can relate my practical experience to lessons learned from other people and contexts, as well as to research and theories in this field. Now I feel much more confident to participate in a meaningful way in a peace process. I also know the different things we need to prepare and keep in mind, in order to make a peace process more successful and sustainable, she says.
The women selected to participate in the programme have strategic positions in governmental and non-governmental organizations, and they all have previous experience in the area of conflict prevention. In connection to the programme, all of them have initiated new peace initiatives in their home countries.
The group from Liberia has started a national network to organize their activities – The Dialogue and Mediation Sisters of Liberia. Some inspiration comes from the Swedish Women Mediation Network. In Liberia, a mediation training for local women chiefs has also been held. The Afghan group has conducted conflict analysis at a provincial level to understand local factors that drive the conflict and the radicalization, and to be able to design activities from the identified needs.
The first FBA workshop within the programme was held at Sandö in Sweden in November 2016, and during the second part in Cambodia the participants decided to form a network, Global Women Mediators' Forum, in order to keep in touch and exchange experiences.