Nordic Women Mediation Network to gather in Stockholm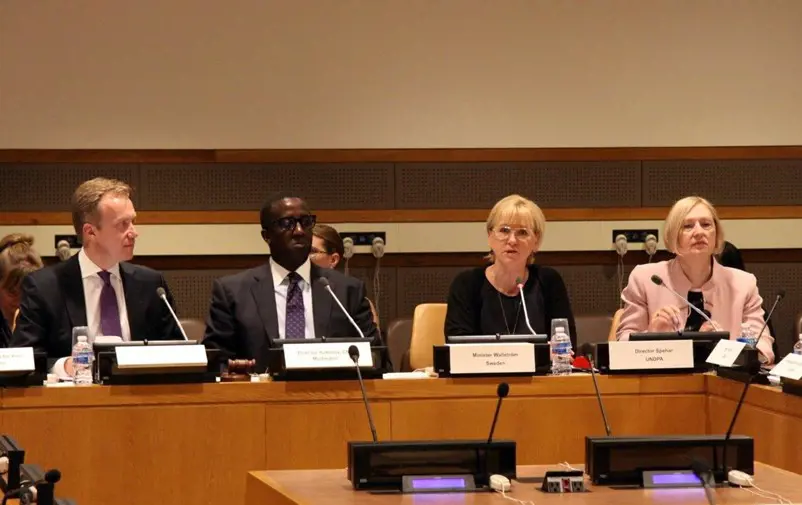 Margot Wallström at the international launch of the Nordic Women Mediators in May 2016. Photo: FBA
The Swedish Foreign Minister Margot Wallström will open The Nordic Women Mediation Network high-level event on December 7. Guests are the Deputy Foreign Minister from Afghanistan and a number of prominent women within the field of peace-building and mediation.
– The meeting is an excellent opportunity to further strengthen the Nordic network's global partnerships. We are already collaborating with a number of similar initiatives and are happy to welcome guests from several countries where the issue of women's participation in peace processes is highly topical, for example Colombia, says Chris Coulter, Head of the FBA's programme for conflict prevention and conflict resolution.
The high-level event, 'Leadership for Inclusive Peace', is a collaboration between the FBA and the Swedish Ministry for Foreign Affairs. The Nordic Women Mediation Network brings together the national mediation networks of women from Denmark, Finland, Iceland, Norway and Sweden. The initiative aims to increase the number of women in peace processes, both Nordic women and women from conflict-affected countries.
In a world where half of all peace agreements collapse within a five-year period, where women remain targets of sexual violence in armed conflict, and where the numbers of individuals displaced by conflict have reached the highest levels since the Second World War, there is a need for leaders to step forward and advocate the need for women's rights and increased contribution to peace and security.
Close to one year after the launch of the Nordic network, the number of members has grown substantially. Today more than 40 Nordic women are prepared to contribute with their expertise within the fields of dialogue, mediation and conflict prevention. The aim is to strengthen women's meaningful participation in peace processes.
– Women are significantly underrepresented in mediation, both as chief mediators, negotiators and signatories of agreements, as technical experts and members of mediation teams. The Nordic network wants to change that. Sweden has a strong voice in both gender equality and conflict prevention, and FBA are pleased to operationalize this work together with the Nordic network, says Sven-Eric Söder, Director-General of the FBA.
The high-level event in Stockholm on 7-8 December is an opportunity to share experiences both within the network and with key international mediators, political leaders, civil society representatives, researchers and other prominent individuals within the field of women, peace and security.
Read more about the Swedish Women Mediation Network here and about the Nordic Women Mediators here. Participation in the high-level event is by invitation only.