Prominent women mediators gathered in Stockholm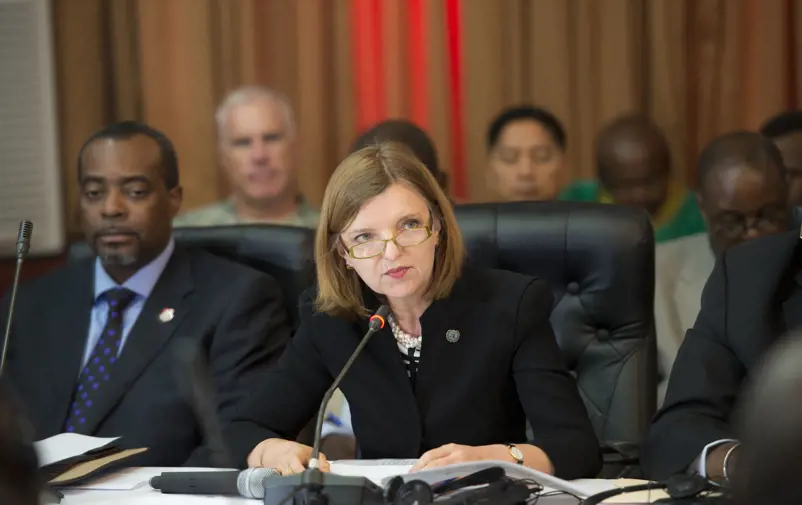 On 16 December, the FBA hosted a high-level seminar, gathering some of the world's most prominent women in peace mediation. The first four members of the mediation network that the FBA has been commissioned to create were presented.
Studies show that only two percent of the chief mediators in international peace processes between 1992 and 2001 were women, a fact that affects how peace agreements are designed and influences the sustainability of peace. The FBA has been commissioned by the Swedish government to create a Swedish mediation network for women that within two years will be prepared to contribute to peace processes around the world.
The first members of the network are now presented. One of them is Karin Landgren, up to recently UN Secretary-General Ban Ki-moon's Special Representative to Liberia and head of the peacekeeping mission UNMIL in the country.
– This is an important initiative that sends a clear signal. We can no longer justify that half of the population is excluded from the discussions about peace and the future, says Karin Landgren.
Other confirmed members are Lena Sundh, ambassador to Angola with many years of experience as a diplomat, Marika Fahlén, diplomat with extensive experience from the UN system, and Marie Jacobsson, Legal Advisor at the Swedish Ministry of Foreign Affairs, who has participated in several international peace processes.
– The FBA has been working on peace and mediation processes during a number of years and we have a good overview of the Swedish women with suitable skills. In a first step, we have identified these four people, who are some of the most prominent women we have in the field, says Sofie Karlsson, who leads the work on behalf of the FBA.
The FBA, together with the Swedish Ministry of Foreign Affairs, arranged a high-level meeting in Stockholm on 16 December, where the network members together with a set of internationally recognized mediators participated in a conversation about the role of women in peace processes. The participating mediators have been engaged in peace processes in the Philippines, Yemen, Afghanistan, Uganda, Nepal, Burundi, East Timor, Sudan and Liberia.
The Swedish mediation network, which will include around 30 members, will be connected to various women's networks around the world, including the newly-created Northern network, which is supported by the Nordic governments and operated jointly by the Norwegian Peace Research Institute Oslo, NOREF, the Finnish Crisis Management Initiative and Icelandic UNU-GEST.
The FBA's efforts to form a Swedish mediation network for women is part of our work on conflict prevention and conflict resolution, and the UN Security Council Resolution 1325 on women, peace and security.
Photo: Karin Landgren is one of the members in the mediation network. UN Photo/Staton Winter.