FBA to train EU mission leaders for efficient crisis management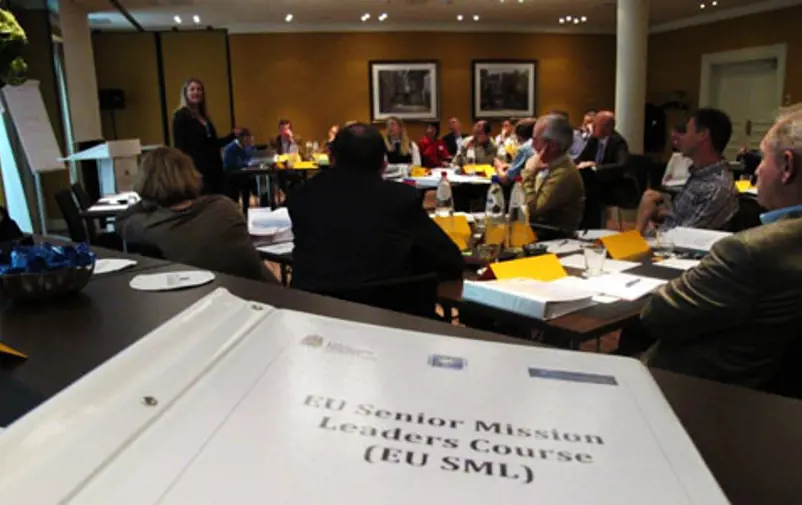 Mission leaders in conflict zones are operating in complex political contexts with pressing security challenges. In order to prepare future mission leaders for their tasks, the FBA has developed a course on senior leadership within EU peace missions. The course is held in Belgium during two weeks in November.
There are 35 participants, nominated by the EU member states, taking part in the EU Senior Mission Leaders Course (EU SML) held in Brussels. The course has been developed in cooperation with the European External Action Service (EEAS) and the participants are trained in important aspects of the EU Common Security and Defence Policy (CSDP). The course also concerns the challenges an EU mission leader might face.
The methodology includes a mix of theoretical presentations and practical exercises. Jonas Alberoth, Deputy Director-General of the FBA, is leading the course, together with five mentors with extensive experience in the field. In addition, around 40 lecturers with specific expertise will visit the course.
The target group is mission leaders, future mission leaders, and other senior staff in EU CSDP missions, such as force commanders. The participants come from the military, the police or are civilians. After completing the course they will be considered a group of well-prepared candidates for recruitment of leaders for the EU crisis management missions.
Lena Larsson, Deputy Mission Leader of EUPOL COPPS in Palestine, is one of the former course participants.
– I took part in the EU SML course held in 2013, while I was Deputy Chief at a field office for EUJUST LEX in Iraq. I greatly appreciated the privilege of being given a mentor who offered me advice and support concerning leadership in a complex peace mission. Moreover, in my current role as Deputy Mission Leader, I often use the practical tools I learned for dealing with the media, she says.
The FBA developed the concept of the course in 2011 and 2012, following an exhaustive needs assessment undertaken in cooperation with the EEAS. The EU SML course shall contribute to successful EU CSDP missions through sound leadership and effective mandate implementation. It was held for the first time in 2012 and is now being arranged for the third time. The course of 2015 is held in collaboration with the French l'École Nationale d'Administration and the Luxembourg Presidency of the Council of the EU, within the auspices of the European Security and Defence College (ESDC).