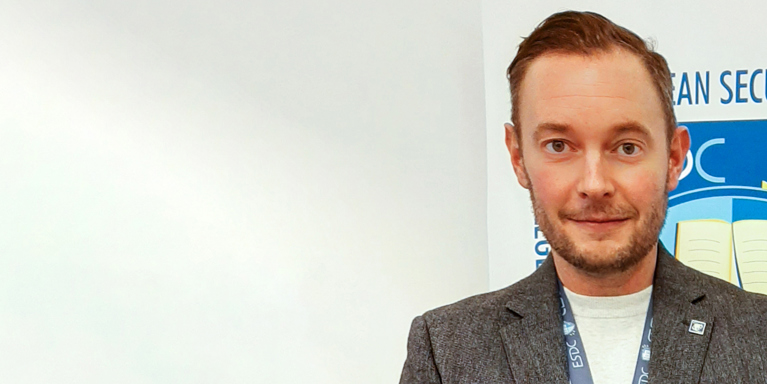 Kristian Edqvist
Training manager in Brussels
Kristian Edqvist is one among some 20 Swedes who are seconded to the EU External Action Service (EEAS) in Brussels. EEAS manages EU's diplomatic relations with countries outside the union and conducts EU's foreign and security policy. The staff is from all member states.
The purpose of EU's foreign and security policy is to support the union's partner countries and neighbouring areas, by strengthening peacebuilding and preventing conflicts. EU also has a common security and defence policy that supports its external relations through a collective crisis management capacity. Cooperation in foreign and security policy related issues has become increasingly important.
You are seconded from FBA, stationed at the European Security and Defence College (ESDC). What is the task of the ESDC?
– ESDC is like an island within the EU external action service. It is a network organization run by EU's member states. ESDC contributes to the development of a common security culture by making sure that EU personnel have the training and practical skills required to perform well at work. We cooperate with approximately 160 different training institutes from all member states.
And what is your role?
– My role is to coordinate parts of the civilian training. I support our partners and make sure that the courses we offer match EU standards. I lecture about EU's integrated approach that provides a framework for the instruments available in EU's toolbox – diplomatic action, security and defence, development aid, economic sanctions – to prevent and handle conflicts. I am also the coordinator for the SSR group, a board of experts from EU's member states and institutions that coordinate, create common ground and understanding for training on security sector reform.
Tell us about your professional background from the security sector!
– I worked for many years at the Swedish Prison and Probation Service, one of the state actors that is part of the security sector. I started as Correction Officer at Sweden's largest high security remand prison, then I worked as Desk Officer at the Office for International Affairs. From 2013 to 2015 I worked for the UN in Liberia. As Corrections Mentor at the Monrovia Central Prison I was responsible for mentoring and training of the entire staff, structuring the security work and making sure that interns were treated in accordance with human rights.
You just started this position. How has work been so far?
– It is a lot to familiarize with. According to my colleagues who have been here for a while it takes at least a year to settle. The EU structure is not easy to grasp and for me, with previous experience from the UN, it is an entire new alphabet of abbreviations. In addition, it is a new city and a new culture. I am still looking for an apartment to rent. So, it is quite overwhelming but I feel inspired and really enjoy being here.
Photo: James Sensor, private