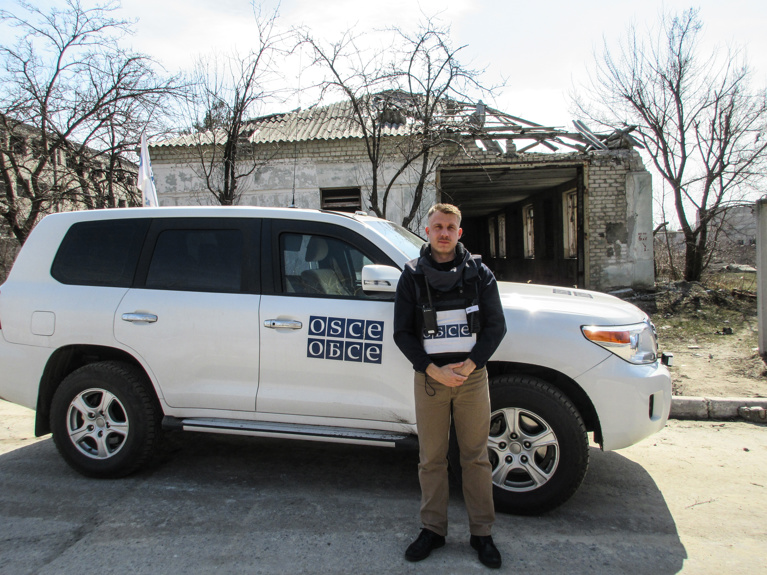 Johan Chytraeus
Monitoring officer in Ukraine
A conflict between government forces and pro-Russian troops is ravaging Eastern Ukraine since 2014. Despite a ceasefire agreement between both parties the violence continues.
The intergovernmental organization OSCE has deployed a special mission, the SMM, to monitor the situation, and decrease tensions through facilitating a dialogue. During 2017 SMM carried out 25,000 patrols and registered more than 400,000 infringements of the ceasefire.
Johan Chytraeus is one of the 700 internationally seconded to the OSCE and based in Sievierodonetsk. Together with his colleagues at the Human Dimension Unit he collects and analyzes information on how human rights are respected in the conflict zone.
What do your days look like?
– My area of responsibility is pretty broad and covers monitoring and reporting regularly on the security situation. It includes security incidents, the fundamental freedoms and inter-ethnic relations. Our focus is on access to justice as well as people's freedom of movement across the contact line, freedom of assembly and freedom of speech that allows civilians and journalists to express their opinions in accordance with the legislation. I follow the development over time and identify patterns and changes. I also regularly lead patrols in the field when we collect information.
What happens with the information you collect?
– After being processed at our head office in Kyiv, the reports are conveyed to all 57 OSCE participating states and made available for the general public on the OSCE website. If we discover something relevant, a patrol can be tasked to follow up the next day. When there has been shelling at night we report on casualties and also whether buildings or roads have been damaged. It is important that the information we give is accurate so we always use various sources to corroborate it. For this reason we may talk to relatives, visit hospitals and sometimes even morgues.
Why did you apply to the OSCE mission in Ukraine?
– I always found it interesting to be where the action is. I might have been the first in the information chain to handle something that is written in the newspapers or published in our official reports. Human rights are highly critical issues here – that inspires me.
What is it like to work in a conflict zone?
– To be seconded means that you are constantly watched as a representative of your organization. It puts relative demands on your behavior, impartiality and lifestyle – things you don't have to think about at home. Also there are some restrictions on your free time activities. For example I run at the gym and not outside as there might be mines and unexploded ammunition. Though the city is controlled by the government the outskirts are not considered totally safe yet.
This is your third mission. What is the attraction?
– Being able to make a difference in conflict-affected people's lives has always triggered my professional nerve. In addition, you learn a lot about people and about yourself through handling extremely stressful situations. Personal maturity and ability to tackle tough environments with many different people is valuable knowledge I bring back home.
Photo: Private, OSCE/Evgeniy Maloletka