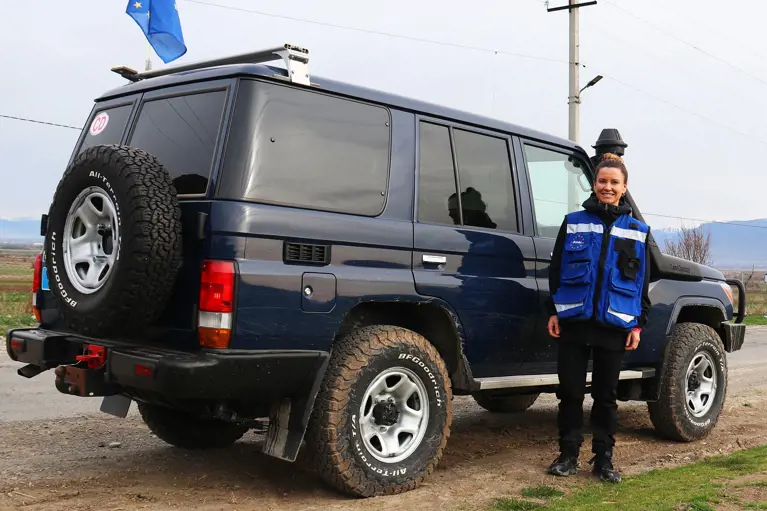 Teresa Wiklund
Monitor at EUMM in Georgia
Theresa Wiklund works as a monitor at The European Union Monitoring Mission in Georgia (EUMM), in the Gori Field Office, in the Administrative Boundary Line team.
EUMM is an unarmed civilian monitoring mission. The Mission, based in Tbilisi and with field offices in Gori, Mtskheta and Zugdidi, was established by the European Union on 15 September 2008, following the 2008 August War between Georgia, Russia and the breakaway regions of South Ossetia and Abkhazia.
What do you do in your work as monitor?
– Monitoring can be described as a continous process, consisting of preparation, collecting information, documentation, analysis and verification and follow-up. As a monitor my job is to observe the Administrative Boundary Line with South Ossetia together with my EU colleagues and to report about the security situation, and to feed into the process of monitoring. You can say that we "monitor the situation on the ground".
– As a Monitor you can have the responsibility to be a patrol leader, then you lead a patrol, most commonly of four people for that day. You make a patrolplan according the tasks and roles given, you hold a briefing ahead of the patrol, and conduct the patrol according the prioritized tasks and routines. You are also responsible for the patrol's security for the day and when you come back to the office you write the patrol report.
– The daily work as a Monitor consists of patrolling with cars and by foot along the Administrative Boundary Line, which means that we spend a lot of time together patrolling with our teams, in any weather, condition and time of the day. I think it is important to to emphasize that this is really a teamwork and not a "one-person show".
Why did you want to take this mission?
– It is very inspiring to work with professional international and national colleagues, who all come from different backgrounds. It creates a work environment with diversity in the teams, that I consider as a strength, because we can learn a lot from each other and bring different skills to our work.
– I highly value the importance of working in a post-conflict environment without the use of force, and it feels very relevant. I feel a sense of responsibility by EUMMs presence here in Georgia, and I want to contribute to the work as much as possible by monitoring under the EU and EUMM flags.