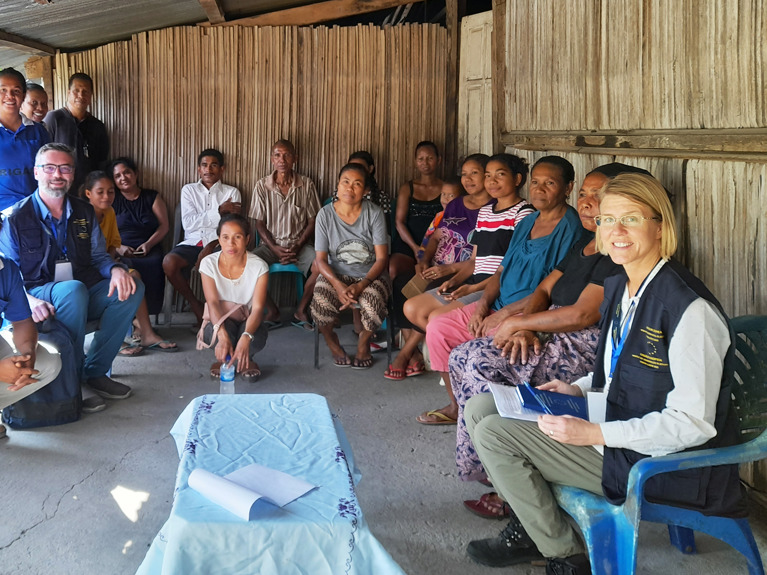 Kajsa Norman
Election observer
Since 2017, Kajsa Norman has been one of FBA's election observers. So far, she has worked as a short-term observer in Bosnia and Hercegovina and North Macedonia, and as a long-term observer in Uzbekistan. In 2022, she was deployed to the EU election observation mission during the presidential elections in Timor-Leste, where she was stationed in Viqueque in the southeast part of the country.
In between her election observation missions, Kajsa lives in Canada where she works as a journalist and writer focusing on democracy and human rights issues. She also has a background as a public relations and press officer in both the Swedish and Canadian armed forces.
Why did you want to become an election observer?
– As a journalist, I have followed several elections around the world, and I have wanted to become an election observer for a long time. For me, the work as an election observer is a way of contributing to the promotion of democracy and human rights in an international environment. The methodology for election observation that is used by both the EU and the OSCE aims at ensuring neutrality and independence. For example, you always work in pairs with a partner from another member state. We are invited by the country itself, so you know that they have an interest in the mission's observations and recommendations, which makes the work feel meaningful.
Have you had any training or made any other preparations for the mission?
– I have participated in FBA courses for both short-term and long-term observers. I have also participated in the course Hostile Environment Awareness Training (HEAT) about how to increase personal security when working in medium- and high-risk environments. The combination of competent instructors, role play and hands-on exercises provided insight into the everyday life as an election observer that corresponds well with reality. I have had use for all three courses in the field.
Which personal qualities would you say are important as an election observer?
– Being an election observer is in a way quite similar to being a journalist. It is important to always be neutral and to verify the information before passing it on. To become a good election observer I also think it is useful to be curious and to have a sincere interest in democratic processes. Depending on where you end up, other skills might be required. Here in Viqueque for example, you need to be able to make a campfire for cooking your meals and make do without electricity. You need to be tough – it is not always comfortable.
What does a normal day look like?
– As a long-time observer, I meet and interview representatives from political parties, authorities, civil society organizations, security forces and voters. I also observe the election campaign and the voting procedure on election day. No day is the same, you never know what will happen next.
– Right now I am stationed in one of Timor-Leste's poorest regions. Everyone is very welcoming and happy about the EU's presence, so it is easy to get access to the different actors. My Bulgarian colleague and I have interviewed several presidential candidates, including the current president. Instead, there have been practical challenges such as finding and cooking food. It feels a bit unreal to interview the country's president and in the next moment walk around with a machete looking for firewood to be able to cook food.
– This work requires flexibility and the ability to adapt. On the first day in our region, we saw an enormous saltwater crocodile, and the local doctor warned us about going too close to the water as the crocodiles regularly catch both humans and livestock.