Swedish Women's Mediation Network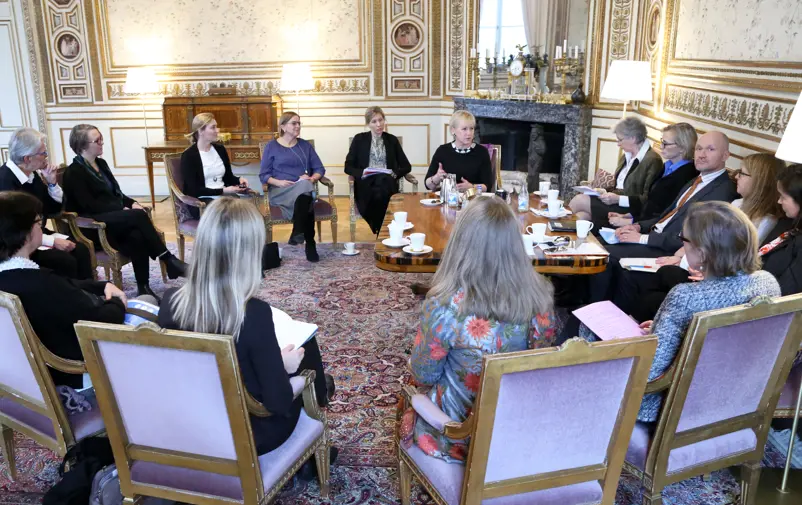 Members of the Swedish Women's Mediation Network in a meeting with the Swedish minister for foreign affairs, Margot Wallström. Photo: Moa Häggblom
The Swedish Women's Mediation Network was established by the Swedish government in 2015. FBA is tasked with coordinating the network, which consists of 19 Swedish women with extensive experience in dialogue and peace mediation.
The UN Security Council resolution 1325 on women, peace and security was adopted in year 2000 and states that women must be included in all international efforts for peace and security. There is recognition that despite important gains resulting from the implementation of the resolution, formal peace and mediation processes still lag behind in meaningfully involving women.
In a bid to change this, the Swedish government announced in 2015 that a network would be created of Swedish women with expertise and experience in peace mediation, peacebuilding, negotiations and international diplomacy.
Objectives of the Swedish Women's Mediation Network
The objective of the Swedish Women's Mediation Network is to increase the meaningful participation of women in peace processes – including both processes to prevent and solve conflicts and peacebuilding efforts in the aftermath of conflict – to ensure that women's needs, perspectives and interests are prioritized.
The network aims to:
Strengthen the capacity of women leaders in conflict-affected countries, within the area of dialogue, mediation and peacebuilding.
Support ongoing peace processes in order to improve the conditions for women's participation, and to enhance the quality of peace agreements.
Promote the role and experience of women in dialogue and peace mediation, through advocacy and participation in high-level meetings, conferences, seminars and the like.
Engage with similar initiatives in other countries and regions.
Increase knowledge and understanding about the role of women in peace processes.
Members of the Swedish Women's Mediation Network
The network consists of 19 members:
FBA coordinates the network in close collaboration with the Swedish Ministry for Foreign Affairs. This entails supporting the members' participation in various activities in order to achieve the purposes of the network, and managing the Swedish network's participation in international networks, such as the network for Nordic women mediators.