Women associated with armed groups are doubly stigmatized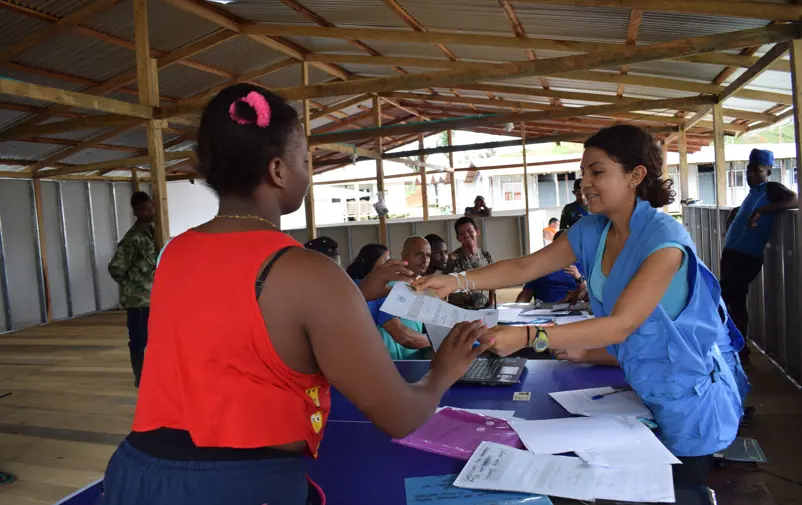 The UN resolutions on women, peace and security act as a backdrop for all FBA's efforts to prevent and manage conflicts internationally. In the field of disarmament, demobilization and reintegration of ex-combatants, the focus is on drawing attention to the role of women in armed groups, and on widening the definition of people eligible for reintegration support.
Efforts for disarmament, demobilization and reintegration into civil society, also called DDR, are aimed at creating stability and human security, and preventing the reoccurrence of conflict. Traditionally, DDR processes have involved armed men belonging to armed groups. Women have often been made invisible and discriminated against in these processes.
– Few women take active part in combat in most armed conflicts. But women still play a role in armed groups. They are often tasked with supporting combatants by cooking, providing healthcare and logistics. Many women are also forcibly recruited to serve as sex slaves in armed groups, says Stefan Åström, head of FBA's Disarmament, Demobilization and Reintegration Unit.
There are also women who chose to join armed groups. Their motivations may vary, and change over time. Just as reasons for leaving an armed group may differ. For example, a third of the ranks of the Colombian FARC guerrilla was made up by women, many of them joining the armed struggle to escape traditional and oppressive home environments, hoping for a new, free life with the guerrilla.
– These women can be wary of laying down their weapons, because they fear going back to their local communities where they may be forced to conform to strict gender roles, Stefan Åström says.
Women and men have different needs
Paragraph 13 in the UN Security Council resolution 1325 on women, peace and security states that the different needs of male and female ex-combatants, as well as their families, must be considered in the planning and design of disarmament, demobilization and reintegration programmes.
However, the first UN guidelines for DDR published in the beginning of the 1990s, were focused on standardized programmes to be implemented in many different contexts. A man carrying a gun was the norm. The narrow definition of a combatant made women in armed groups invisible, and often barred women from receiving reintegration support.
FBA has supported the work on updating the UN guidelines for DDR, and a new version was launched in 2019. All 34 sections of the updated guidelines have a gender perspective, and one chapter is fully dedicated to the subject of gender equality.
In villages badly affected by violence, a reintegration process must be broad and focused not only on the needs of ex-combatants, but also on the needs of the rest of the local inhabitants.
– Needs often vary between different individuals and different groups of people. The new DDR guidelines look more into the role of non-combatants in armed groups, mainly women. The guidelines also include civilians, mainly young boys and girls, who are at risk of joining an armed group because they lack alternatives, Stefan Åström says.
For example, the guidelines include tools for assessment of who is qualified for entering into a DDR programme. Participants in DDR programmes receive long-term support, and the screening and selection of participants must be indiscriminatory. The new tools comprise a questionnaire especially designed to pay attention to the needs of women.
The teams carrying out the selection of participants also need to be diverse, with people coming from different groups in society. They need to have an understanding of gender-based sexual violence, be able to detect its occurrence, and meet and interact with survivors.
Stigmatization is common
People associated with armed groups are often stigmatized. They may not be trusted by their peers, and have a hard time finding civil employment. This may lead them to take up arms again. In Colombia, as many as 4 000 ex-combatants are estimated to have re-joined armed groups and drug cartels after the 2016 peace agreement.
– Normally, men are more strongly associated with acts of violence, which may hinder their reintegration into civilian life. At the same time, they can usually be re-recruited by armed groups more easily, Stefan Åström says.
But this does not mean that it is easier for women to go back to civilian day-to-day life. Women who used to belong to armed groups often face double stigmatization, because they are expected to be victims of sexual and gender-based violence.
– Women rarely say openly that they have been part of an armed group. The price to pay is simply too high. But this means that they do not receive the attention and the support that they should get.
The process of reintegration does not come easy. In a village, for example, some inhabitants may have supported the armed group whose members are now to be disarmed and reintegrated into civilian life in the village, while others may have opposed the armed group. It is a challenge to create a peaceful dialogue among villagers, to make them listen to one another and create a common vision of the future.
– After 50 years of war, as in Colombia, most people know somebody who died in the conflict. Few people dare to speak their mind openly, Stefan Åström says.
He underscores that reintegration support must be individually tailored, and at the same time involve the entire local community in order to be a success. Political reforms can both prevent and generate violence, depending of the result of the reforms; the relocation of power and resources.
During the Colombian conflict, women together with the Catholic church have been providing basic public services for many people living in the countryside. They have formed the backbone of local society, putting food on the table, taking the kids to school, and cooperating with other villagers to make everyday life work.
– These women are now in a position where they have the possibility to talk to different groups and help them reconcile, Stefan Åström says.
Photo: UN Photo/Jennifer Moreno. Members of the FARC guerrilla in Colombia receive certificates for laying down their weapons.