High-level meeting on women in mediation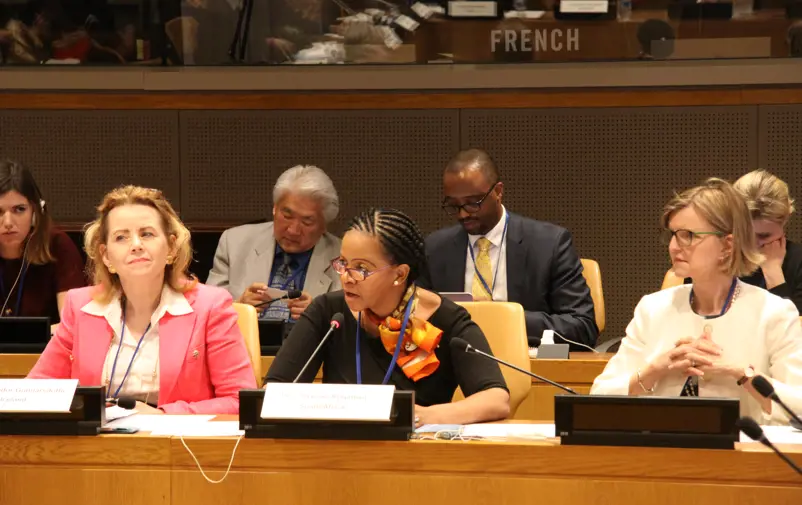 How can women's meaningful participation in peace processes be increased? This and much more was discussed during a high-level meeting at the UN headquarters in New York the 11th of May, co-organized by the partner countries and operational partners of the Nordic Women Mediation Network. FBA is one of the partner organizations.
– Women's meaningful participation in mediation and conflict prevention is much more than a gender issue, it is a matter of sustainable peace, said Børge Brende, Foreign Minister of Norway, in his introductory remarks at the high-level meeting.
The meeting was co-organized by Finland, Norway, Sweden and Denmark, together with the operational partners from the Nordic countries; FBA, CMI, NOREF, PRIO and UNU-GEST. It was hosted by the Permanent Mission of Finland to the UN.
More than 15 years after the adoption of UN Security Council Resolution 1325 on women, peace and security, formal peace and mediation processes have lagged behind in effectively engaging and meaningfully involving women, whether as negotiators representing parties to a conflict or as members of the teams facilitating peace processes. But there is no lack of examples of women's important contributions:
– In 2014, Professor Miriam Coronel-Ferrer became the first female chief negotiator to affix her signature on a comprehensive peace deal involving two negotiating parties. And the Philippines was the first Asian country to implement a national action plan for 1325, said Ambassador Lourdes Ortiz Yparraguirre, Permanent Representative of the Philippines to the UN.
– We have discussed these issues for more than 15 years, it is time to take the next step, said Elisabeth Rehn, Finnish Minister of State and one of the members of the Nordic Women Mediation Network (NWMN).
Staffan de Mistura, the UN envoy for Syria, gave a video greeting during the meeting together with Rim Turkmani, member of the Syrian Women's Advisory Board. Sweden is currently supporting a number of women in the Syrian peace talks, and the Swedish Foreign Minister Margot Wallström shared some of the words of advice she has given:
– Make sure you have a central role in the process, and if it is not given to you, take it. Focus on the substantial issues, demand information about the process, identify who is important, and stay united – show solidarity.
The importance of discussing men's role was highlighted by a number of participants, including the NWMN members Greta Gunnarsdottir, Iceland's Ambassador for Human Rights, and Karin Landgren, former Special Representative of the UN Secretary-General to Liberia.
Foreign Minister of Iceland Lilja Alfredsdottir made the closing remarks of the well-attended meeting:
– We have a long way to go, but I find this meeting very enlightening. The Nordic Women Mediation Network aims to increase the number of women in peace processes, and we are now bringing a number of qualified women to the forefront.
Read more
FBA forms network of women peace mediators