FBA celebrated 20 years of support for UN peace operations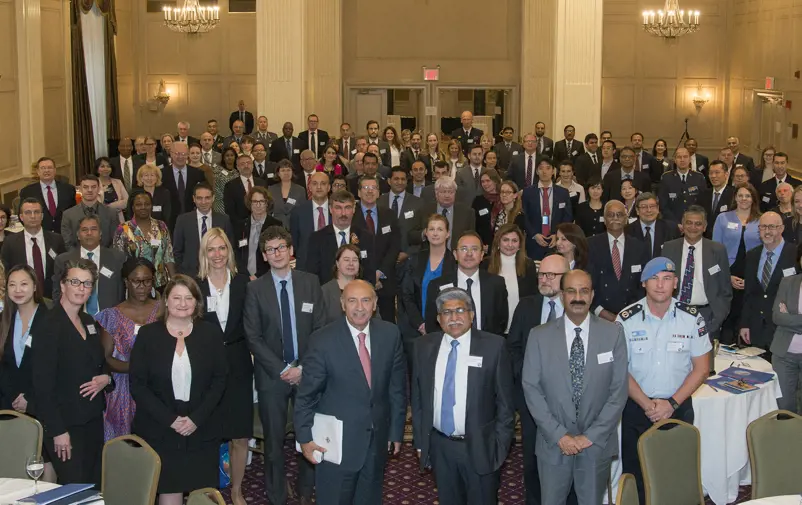 Photo: Anthony Rosario/Challenges Forum
On the 8th and 9th of May the FBA participated through its Director-General Sven-Eric Söder, among others, when the organization Challenges Forum marked its 20th anniversary with a high-level thematic meeting in New York City, USA.
The meeting was inspired by the findings in the recent high-level and expert panels such as the report by the High-Level Independent Panel on Peace Operations and the UN Secretary-General's report on the future for the UN's peace operations, Peacebuilding Architecture Review and Global Study on the implementation of Security Council Resolution 1325 (2000) on women, peace and security.
The international organization Challenges Forum aims to enhance analysis, planning, execution, and evaluation of UN peace operations. The FBA is hosting the Challenges Forum international secretariat, led by the founder and director Annika Hilding Norberg.
The FBA has also, since the start of the agency in 2002, had the overall mission to support international peace and crisis management operations by for example education, research and deployment of civilian personnel to international missions led by the UN, EU and OSCE. The Challenges Forum is a natural and important platform for cooperation within this field, with partners from 22 different countries and 47 different organizations; the FBA being a very active partner.
Dr. Louise Olsson, senior adviser on gender at the FBA, also participated in one of the sessions at the meeting i New York. Dr Olsson has authored a background paper for the session on Effective Implementation of UN Security Council Resolution 1325 in and by Peace Operations: Empowering Women in the Field–What Now? Before the meeting she was interviewed by the Global Peace Operations Review.
The seminar was organized separate from but in conjunction with the General Assembly High-Level Thematic Debate on UN, peace and security on the 10-11th of May.