New report to improve UN peace operations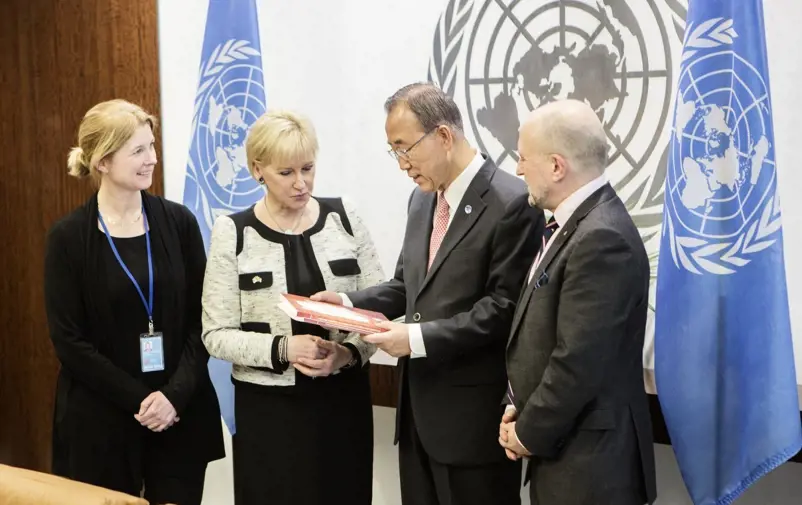 FBA was in New York for the launch of Challenges Forum's new report, which was formally handed over to the UN Secretary-General Ban Ki-moon by the Swedish foreign minister Margot Wallström on 26 January, followed by a launching event on 27 January.
In response to the changing nature of conflict, there is a need to rethink and transform the approaches to UN peace operations. The FBA has contributed to the development of the new report 'Designing Mandates and Capabilities for Future Peace Operations', the result of a two year global effort aimed at increasing the effectiveness, efficiency and long-term impact of contemporary and future peace operations.
The report is developed by the International Forum for the Challenges of Peace Operations (Challenges Forum), a unique network of partner organizations from all continents, including the five permanent members of the United Nations Security Council. Since 2003, its secretariat is hosted at the FBA in Stockholm.
– The United Nations peace operations are facing difficult challenges. Our report comes very timely and will be a valuable contribution to the ongoing UN review efforts, says Sven-Eric Söder, Director-General at the FBA.
Anna Lindh and Laila Freivalds are former Swedish foreign ministers who have had the mission, and this time it was Margot Wallström's turn to hand over the report to the UN Secretary-General Ban Ki-moon, on behalf of the Challenges Forum's 21 partner organizations. A launching event was organized on 27 January, with the participation of the foreign minister.
Margot Wallström and Sven-Eric Söder also write jointly in the Swedish newspaper Dagens Nyheter (27 January 2015) on how UN peace operations can be improved and strengthened.
Read more about Challenges Forum here and find 'Designing Mandates and Capabilities for Future Peace Operations here.

Photo: Axel Öberg