All managers must be on board in order to create a gender equal organization. Therefore, FBA offers gender mainstreaming training and individual coaching for leaders in peace operations. The EU Police and Rule of Law Mission for the Palestinian Territory is one of the organizations receiving support from FBA.
2020-07-31 10:06
Latest news
2020-07-20 08:37

2020-07-03 10:34
MORE NEWS
2019-12-04 16:33

2019-06-28 17:05

2019-03-08 16:29
Read our publications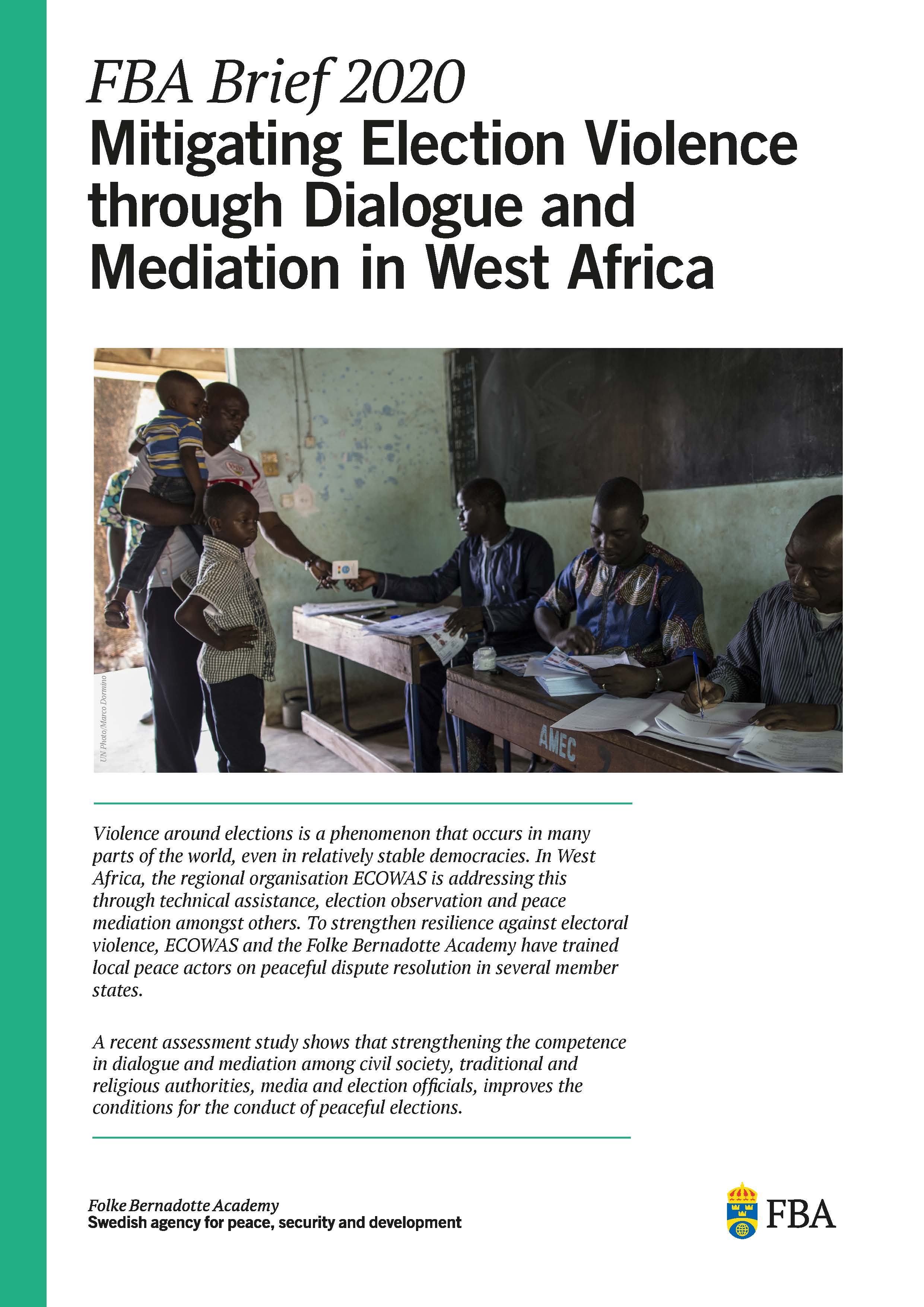 This brief discusses the role that dialogue and mediation training can play in addressing electoral violence, a serious problem to human life and democracy in many countries. Over fifty percent of the African states have experienced electoral violence since the 1990s.
Documents
THE FBA BLOG
Visa:
Posted by Randolph Rhea

South Sudan 2013

The prop-plane bounces through turbulence and I am awoken. I gaze out the window at the landing strip. From high above it looks busy, with many aircraft on the ta­rmac. When we land I realize that all of the cargo planes, troop carriers, and small aircraft are actually all destroyed and the fuselages have merely been pushed to the side of the mortar-potted runway. The wounds of war are still fresh here.

After several hours ... Read entire post »

2020-07-08 08:37

Posted by Anna-Linn Ekenstierna

"Your facilitation brought us to a safe space and process where we shared our stories, really listened to each other and learned from each other."

These are words that I bring with me as I say goodbye to partners and colleagues at the FBA this time around, heading for a new adventure.

The feedback means a lot to me since it indicates that we achieved what we had set out to do. I and my colleagues at the ... Read entire post »

2020-06-26 13:29

Posted by Susanna Rudehill

This year marks the 20th anniversary of the UN Security Council Resolution 1325 (UNSCR 1325), a groundbreaking step for gender equality in international peace and security. Nine resolutions have followed and together they make up what we today call the Women, Peace and Security (WPS) Agenda.

It's not the first international framework for women's rights and gender equality. So why is it called groundbreaking? Because the agenda for the first time recognized inequalities between women and men ... Read entire post »

2020-06-10 10:23