In today's international peace operations, civilians work alongside military and police towards a common goal. Training and co-practicing to improve the coordination of UN operations on the ground are part of FBA's main tasks. The aim is to prepare personnel being deployed for the reality in the field.
2017-05-22 10:27
Latest news
2017-05-22 10:56

2017-05-11 10:48
MOST READ
2017-02-01 14:28

2016-12-08 16:11

2017-02-27 10:13
Read our publications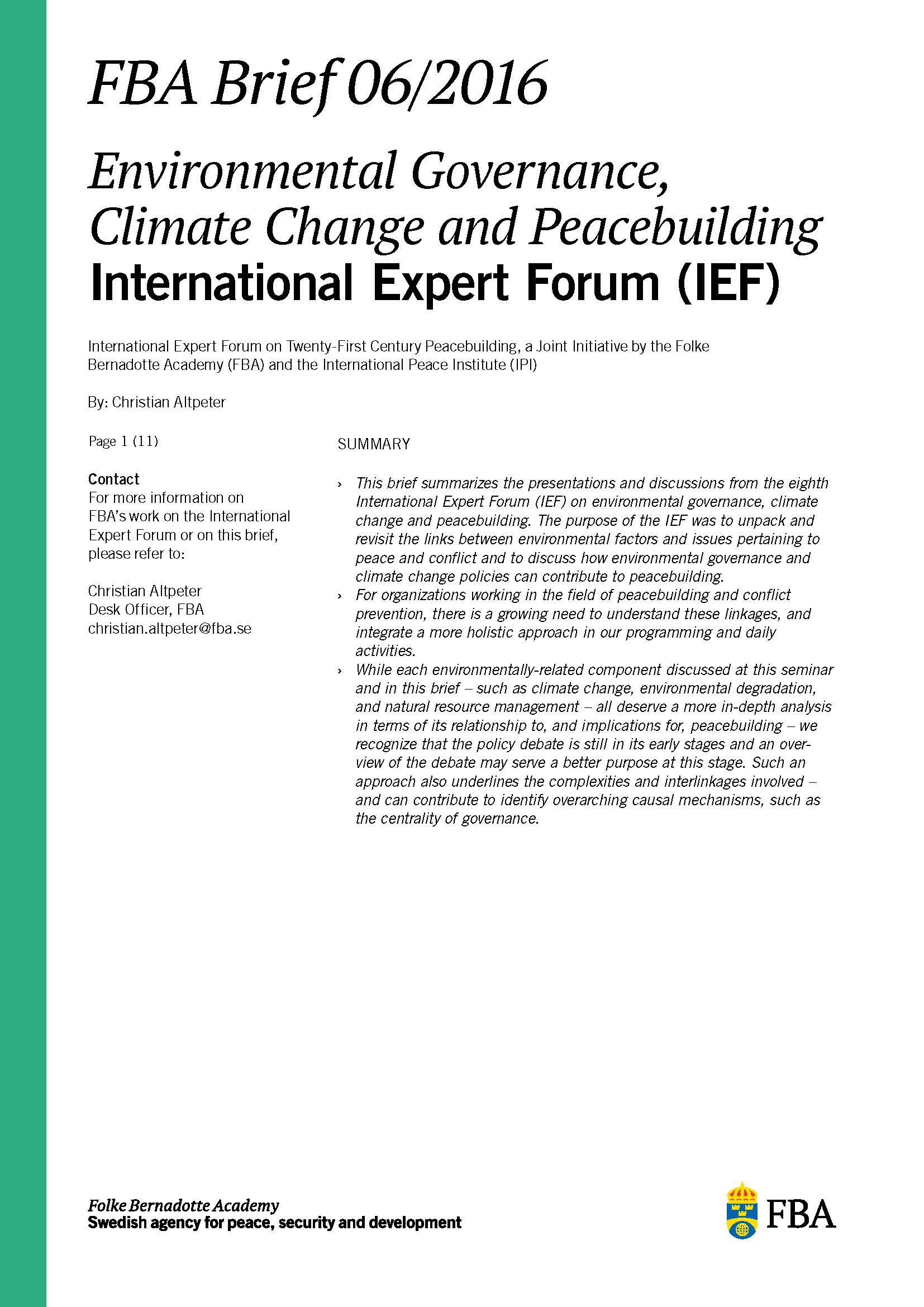 This FBA brief summarizes the presentations and discussions from the eighth International Expert Forum (IEF) on environmental governance, climate change and peacebuilding.
Documents
THE FBA BLOG
Visa:
Posted by Ludmila Ceban

Starting off as a research initiative, FBA's work on exploring linkages between the rule of law and public administration in peacebuilding and development gradually scaled up to one of the largest projects that the agency is implementing bilaterally, the project on local self-government and rule of law in Ukraine. Within the span of several years it has, quite entrepreneurially, engaged with a variety of actors that have jointly been working on promoting rights' based serviced delivery ... Read entire post »

2017-05-22 15:57

Posted by Andreas Berg

For those of us who have worked abroad for FBA over the years, there is a certain familiar pattern one gets used to in this very particular world. Times of excitement, challenge, and high activity come with a new assignment in an international mission or position in the field, followed by periods of rest and recovery after a completed task, followed by patience (and impatience) waiting and hoping for new opportunities to continue one's career. For ... Read entire post »

2017-05-15 17:15

Posted by Robert Hall

Elections are always unique turning points in a country's history so being an election observer has always felt like a privilege. Now I have been given the rare opportunity to observe history being made in Turkey. Not only is it a constitutional referendum on April 16 in Turkey, to decide the form of government some 80 million will live under; it is carried out in a declared state of emergency with military operations ongoing against state-identified ... Read entire post »

2017-04-12 14:35