This year Sweden leads the work of the OSCE faced by a challenging security situation. Several conflicts are in progress in the region: Ukraine, Nagorno-Karabakh and the political crisis in Belarus. Sweden protects the European security order and emphasizes that democracy and human rights are the basis for security. FBA offers support to the OSCE and the Swedish chair in order to contribute to solutions to the protracted conflicts in the region.
2021-05-07 09:20
Latest news
2021-04-23 09:04

2021-03-23 11:12
MORE NEWS
2019-12-04 16:33

2019-06-28 17:05

2019-03-08 16:29
Read our publications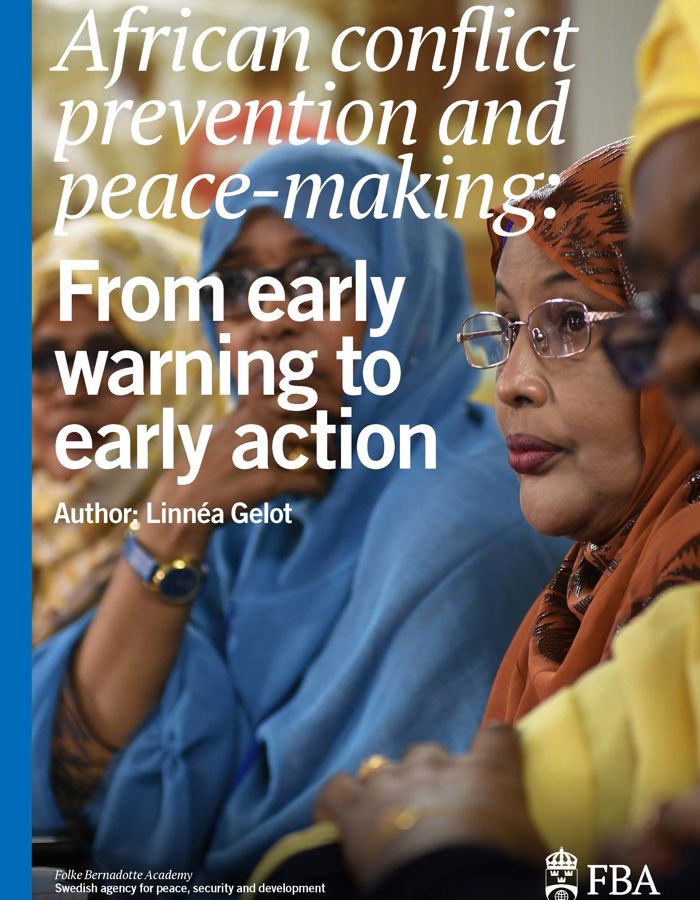 The main objective of this report is to analyse the key trends that are leading to changes in the African conflict prevention and management landscape.
Documents
THE FBA BLOG
Visa:
Posted by Marie Blomdahl

When I joined the Leadership and Cooperation Unit at the Folke Bernadotte Academy in August 2018, after working many years mainly in the private sector, I had a feeling that this job really would offer me an opportunity to use my skills and experiences to make a difference, and at the same time grow as a professional.  FBA was at the time already working actively with leadership development support for leaders in key functions within the ... Read entire post »

The post A safe online space to share experiences to support leadership in the UN first appeared on FBA-bloggen.

2021-06-03 10:54

Posted by Kristin Valasek

Right before the winter break, 236 women and men from 105 different organizations and 46 countries around the world joined our International Dialogue on Gender-Responsive Leadership, to discuss an absolutely critical and often missing part of the gender equality puzzle: gender-responsive leadership.

After twenty years of struggling to achieve the commitments of the global women, peace and security agenda, we at the FBA have learned that executives and managers are essential to success. Not just as supporters, ... Read entire post »

2021-02-10 16:09