Historic peace talks between the government of Afghanistan and the Taliban movement have just begun. But how will the voices of the Afghan people be brought to the negotiation table? A new platform, run by the Afghan civil society with practical support from the FBA and funding from the EU, will bring together the concerns and desires of the Afghans, and transmit them to the negotiators.
2020-09-16 10:05
Latest news
2020-09-07 08:58

2020-07-31 10:06
MORE NEWS
2019-12-04 16:33

2019-06-28 17:05

2019-03-08 16:29
Read our publications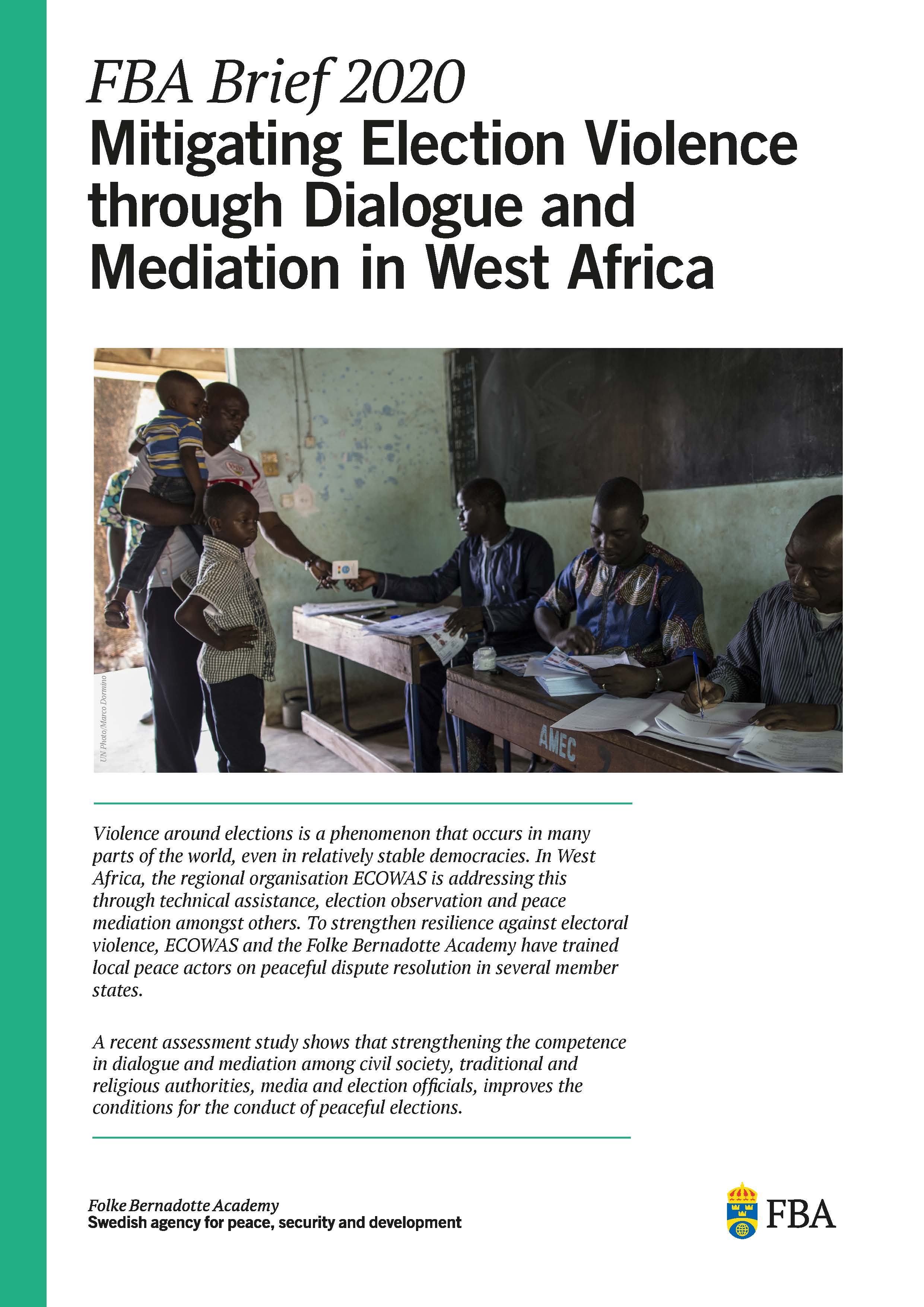 This brief discusses the role that dialogue and mediation training can play in addressing electoral violence, a serious problem to human life and democracy in many countries. Over fifty percent of the African states have experienced electoral violence since the 1990s.
Documents
THE FBA BLOG
Visa:
Posted by Minna Naucler

In the midst of the pandemic, riots and unrest continues in the US over the recent cases of police brutality that resulted in the deaths of several African American individuals. While the Black Lives Matter movement continues to draw attention to the structural racism and inequalities of the American society, one of the slogans of the movement is 'defund the police' – seemingly meaning to disband or even abolish the police and give their funding to… ... Read entire post »

2020-09-30 12:26

Posted by Rhodri Williams

The rule of law is broadly recognized as necessary for good governance, peace and security. The UN 2030 Agenda recognizes this dynamic in all countries, rich or poor. However, the impact of the rule of law – or its absence – is most strongly felt in countries struggling with conflict and crisis.

As part of its work in Liberia, the FBA has supported local partners to apply rule of law principles in public administration. This reflects a ... Read entire post »

2020-09-14 10:34

Posted by Andreas Berg

What is the last 'normal' thing you remember doing? In the extreme year of 2020, many of us have asked this question, trying to remember the last event or activity where we blissfully, innocently, spent time in public spaces without caution, moving through crowds, kissing cheeks, and sharing food in a way that now feels reckless or at least decadent and daring. For me the answer would probably be attending a wine festival in Kyiv in ... Read entire post »

2020-09-09 09:49