"I have developed a desire to defend the weakest"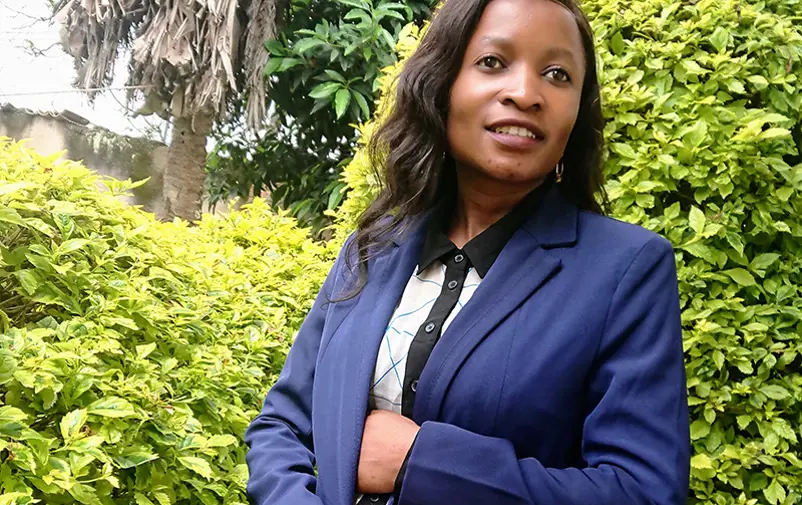 Judith Maroy, 34 years, is a journalist with a degree in economics who lives in Bukavu, DR Congo. A couple of years ago, she decided to devote her career to human rights issues with a specific focus on gender equality and young people's rights.
As one of this year's recipients of the 1325-scholarship in memory of Zaida Catalán, she will join the Kvinna till Kvinna team in Bukavu, where the organization is present since 2009 to prevent sexual violence and promote women's rights. DRC is one of the most dangerous countries in the world for women.
Judith is a devoted promoter of gender equality and human rights. In the past couple of years, she has worked with several issues, such as access to education, water and electricity, protection of the environment, and indigenous people's rights. She is also one of the founders of the human rights organization La Prunelle.
Before joining Kvinna till Kvinna, she worked as executive director of La Prunelle, and her plan is to return to this position after the scholarship period.
How do you want to contribute to Kvinna till Kvinna's work with women, peace and security?
– In this area, which has been plagued by wars for a long time and where women and girls are increasingly exposed, I want to fight alongside them to ensure that they are protected and actively involved in peace mechanisms in the region.
Where does you commitment to these issues stem from?
– I have experienced the pangs of war and have seen how women have paid the heavy price. For a more just, developed and egalitarian society, I have developed a desire to defend the weakest, the voiceless among them, women and young people.
What does the scholarship mean to you?
– Lack of experience or means are some of the obstacles to women's participation in peace processes. This scholarship will improve my knowledge of the methods to be used to achieve my goal of active participation of women. It also strengthens my organizational and technical capacities to help other women and girls do better.
What do you aim for in the future?
– My goal is to be an expert in mediation and conflict management. I also want to help women and their organizations to better organize themselves to be competitive.
About the scholarship in support of women, peace and security in memory of Zaida Catalán
In 2020, FBA was tasked by the Swedish Government to establish a scholarship aimed at supporting the implementation of UN Security Council Resolution (UNSCR) 1325 on women, peace and security. The purpose is to pay attention to young peacebuilders who are working to promote women's participation in conflict resolution. The scholarship is established in memory of Zaida Catalán, who was seconded from FBA to several international peace operations where she served as gender expert.
Scholarship in support of women, peace and security in memory of Zaida Catalán