Youth engaged to foster peace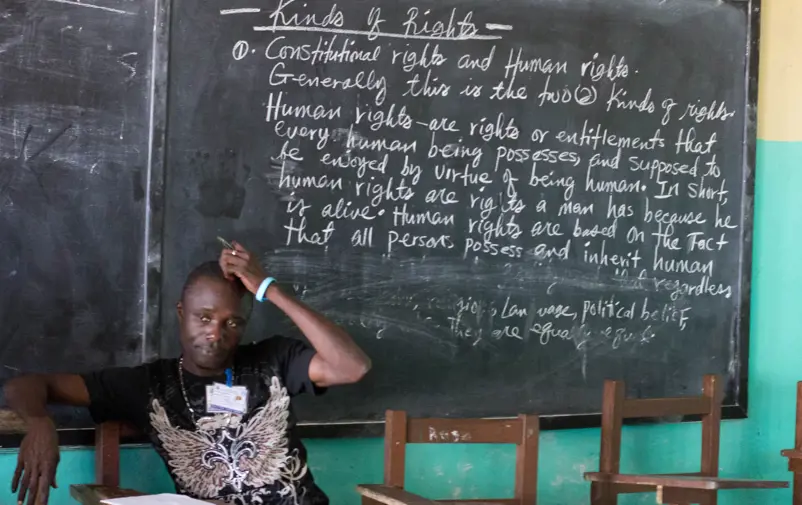 The UN Member States have agreed on action to increase representation of youth in decision-making at all levels and to create ways for youth to engage in conflict prevention, participate in peace processes, and counter recruitment by violent extremists. FBA is commissioned by the Swedish government to analyse how Sweden best can implement Security Council Resolution 2250 on youth, peace and security.
Conflicts are on the rise globally, people are driven from their homes and the number of refugees is higher than ever. Today's generation of youth is the largest the world has ever known and more than 600 million young people are now living in conflict areas or weak states.
– In a world where half of the global population is under 24 years of age it is not fair that youth are left out of decision-making on issues that highly affect the future. Youth, peace and security is an important perspective for us to bring into our work contributing to stability and development, says Sven-Eric Söder, Director-General of the FBA.
Youth participation to prevent conflicts
Resolution 2250 on youth, peace and security is considered the first of its kind. It was unanimously adopted by the UN Security Council in December 2015 and defines youth as persons aged 18 through 29.
– This autumn we will give recommendations on how Sweden can fulfill the resolution and contribute by giving more attention to young men and women's work to shape lasting peace, security and development. An important aspect is youth participation in conflict prevention, not least in countering violent extremism, says Chris Coulter, head of FBA's conflict prevention programme.
FBA has ongoing development cooperation strategy projects in Colombia, Liberia, Mali, Democratic Republic of the Congo and Africa south of the Sahara, and some work concerning youth, peace and security has already started.
Return to civilian life in Colombia
FBA has been working in Colombia for years with disarmament, demobilization and reintegration of former combatants. Now FBA is looking into ways to enable youth who fought for some of the armed fractions in the war to adapt to a new civilian life and find a regular job, for instance by work training and education. About 35 percent of the population in Colombia is under the age of 20.
FBA also supports Peace Works, through grants from The Peace Million. Peace Works run a school in Bogotá together with local partners in order to strengthen young peace builders' conflict management skills and their knowledge of human rights, principles of non-violence, communication and project management.
Democratic debate in Liberia
In Liberia, another war-torn country, some 40 percent of the population is under the age of 15 and the median age is 18. FBA contributes to a peaceful development by supporting youth participation in democratic debate. Youth as peace builders is an important element in Liberia, especially in relation to the coming national elections in the autumn of 2017. This year's elections can result in the first democratic presidential transition in many years. Key individuals from the young community in Liberia have also been involved in FBA's programme on dialogue and mediation.
Counter violent extremism
Part of the background to the UN Security Council Resolution 2250 is the rise of radicalization among young people. The increased use of the Internet to recruit youth to commit terrorist acts is a concern of the Security Council, who underlines the need for UN Member States to work together to prevent terrorists from exploiting youth. The Member States are encouraged to engage local communities and non-governmental actors to develop strategies to combat violent extremism.
The Swedish youth center Fryshuset has been granted support from FBA and The Peace Million to conduct education aimed at countering violent extremism. Fryshuset will, among other things, provide training for local authorities in Swedish municipalities to actively engage youth in conflict prevention.
Photo from Liberia: Brittany Danisch