Humanity and accountability at the centre of good leadership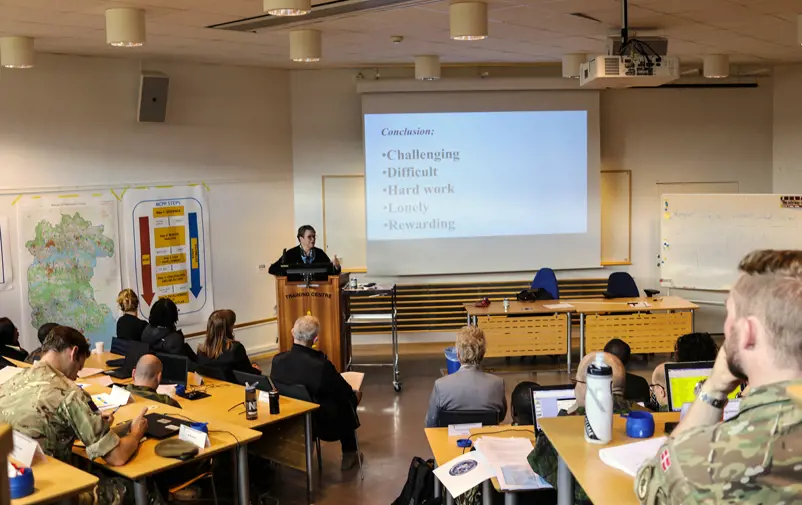 What differs successful peace operations from unsuccessful? For the Danish diplomat Ellen Loej the answer is leadership and cooperation. The issue is as urgent as important, and right now FBA investigates how the agency can contribute to strengthening leadership within the UN.
She has a reputation of being a strong leader. But according to Ellen Loej's leadership philosophy every member of a group has something unique to offer. She is well aware that there are no easy solutions and she uses the diversity in UN peace operations to achieve results.
UN Secretary-General Antonio Guterrez is determined to increase the number of women in leading positions in the UN. Ellen Loej is among those who have paved the road. The previous Secretary-General Ban Ki-Moon was pleased when he announced her appointment as his Special Representative (SRSG) in Liberia and Head of the UN Mission, UNMIL, in 2007. She thereby joined the exclusive group of female heads of UN missions. However, the "womenization" of UNMIL was questioned since the Deputy Head of Mission was a woman from Ghana. They just had to live with it, Ellen Loej notes. Later she was also entrusted the assignment to head the UN peace operation in South Sudan from 2014 to 2016.
She knows what it means to be a senior UN manager as a woman – and in addition to that, a civilian.
– You are constantly watched by your staff, and they can hastily come to the conclusion that you are a soft one and that you do not know anything about the military. You have to be aware of this but without letting it discourage you.
Ellen Loej welcomes the efforts that are underway to increase the opportunities for women to grow in the organization, but dismisses easy explanations on how it can be done. Nato has worked hard to increase the number of female heads of missions and made huge progress, but Nato countries like Denmark and the US only participate to a small extent in UN peace operations. At the same time countries like Bangladesh and Pakistan that largely staff the UN operations have a long way to go to accomplish equality. On the other hand, she points out, only 30 years ago the Nordic countries had not come that far in terms of equality either.
There are multiple reasons to have more women in leading positions in peacebuilding and governance, not least in uniformed professions. Partly to reflect the population and partly to improve performance.
– For an eight-year-old girl who has been raped it makes a big difference to meet a female police officer instead of a male. It is crucial for what she will tell, Ellen Loej says.
To be Head of Mission is incredibly demanding, difficult, lonely and a lot of hard work, she admits. But it is incredibly rewarding too, especially if things are going in the right direction, she emphasizes. As leader one has to be on top of things all the time and able to seek advice from the management team.
– I have often been in doubt, still I have had to take decisions. Women have not had the possibility to explore leadership roles to the same degree as men. They need to dare more, but also get better support from the UN.
In her new assignment she realized that despite her background as UN Ambassador she still had to gain the experience of working in the field.
– It is much easier to solve world problems in an air-conditioned meeting room in New York where you do not have to be disturbed by the rainy season and muddy roads impossible to travel.
UN peace operations consist of people from various professions, coming from many countries with diverse cultures. To make thousands of coworkers work towards the same goal requires a clear leadership, to be able to benefit from the composition of the group and focus on achieving results, Ellen Loej explains.
– Leadership is about reaching the aim of the mission. It demands vision and driving force to get there. Still, if I only use my basic knowledge as a Danish citizen I will overlook many things.
Ellen Loej is humbled by these kinds of assignments. A leader has to accept responsibility and cannot blame the coworkers if things do not work out properly. But she thinks that it is just as important to show humanity and make everyone feel that they are part of the team.
She repeatedly emphasizes the importance of respect for each other's competences. UN peace operations are built on team work where the coworkers have different tasks, all necessary to deliver positive outcomes.
– The most important is to use everyone's abilities and strengths to implement the mandate we have been given by the Security Council.
According to Ellen Loej, the situation determines what kind of leadership that is suitable. Whereas the UN peace operation she headed in Liberia had support from the population, South Sudan was much tougher.
– Neither the government nor the opposition understood our mission, they did not experience that our assistance was appropriate to their needs and often accused us for supporting their counterpart.
There are many interests to balance: the government, political parties, civil society, non-governmental organizations, diplomacy and the Security Council. All actors have to agree to make UN missions function properly and create sustainable peace.
– We cannot give up – it is possible! But our collaborators have to be willing to contribute to a political solution. If they are unable to sit around the same table we will not get anywhere.
Ellen Loej herself never lets the target out of sight. The purpose of UN peace operations is to create conditions for a brighter future for girls and boys across the world.
– It is making a difference that counts. We should never ever just tick the box to comply with our to-do list. If there is no impact on the society we have not done our job, she firmly concludes.
Click to read more about this year's edition of the course UNCIVSOC where Ellen Loej participated.