Research for Peace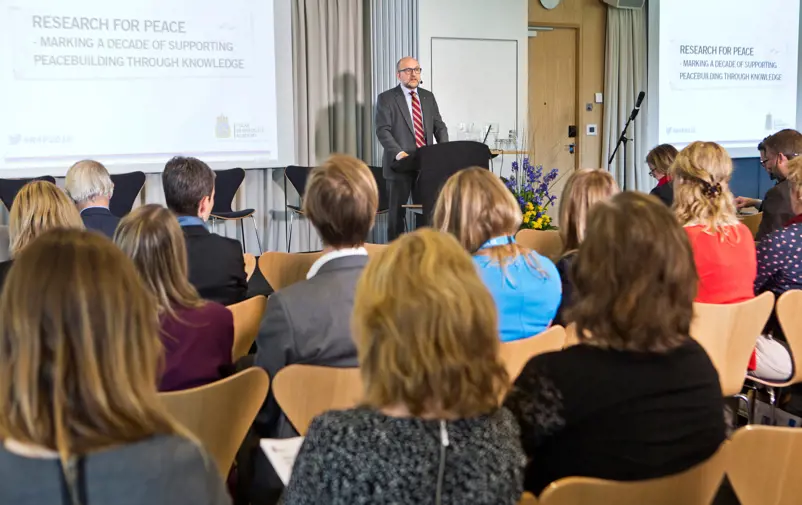 The FBA recently organized Research for Peace, an event to mark the agency's 10-year anniversary of promoting research within the field of peace, security and development. The conference was held in Stockholm on 7–9 June 2015
After a long-term downward trend, war and armed conflict is on the rise in the world again. There is a need for knowledge about best practices to create sustainable peace.

In order to meet the need for knowledge the FBA has, since 2005, supported five research working groups on conflict prevention, peacekeeping, rule of law, security sector reform and UN Security Council Resolution 1325 (UNSCR 1325) on women, peace and security. The researchers in the working groups are world-leading in their respective fields, and they are attached to institutes such as Yale, Harvard, Berkeley, Oxford and Uppsala University.

The FBA arranges yearly meetings for each one of the research working groups. In 2015 we celebrated ten years of promoting research by organizing the Research for Peace conference, which brougt together the five groups for the very first time. Approximately one hundred researchers from all over the world gathered at Hotel Clarion Sign in Stockholm to discuss challenges and possibilities for enduring peace.

On 7–8 June, the research working groups discussed research projects and new findings in round table discussions. On 9 June, the researchers were teamed with international policy-makers and practitioners in the field of peace and security, for a series of seminars and panel debates.
The day started with welcoming remarks by Sven-Eric Söder, Director-General at the FBA, followed by an exposé of ten years of research, held by Richard Zajac Sannerholm, Head of Rule of Law Programme at the FBA.
Thereafter followed a panel discussion on feminist foreign policy in practice. Among the key speakers were Youssef Mahmoud, member of the UN Secretary-General's High-Level Panel on Peace Operations, and of the High-Level Advisory Group of the Global Study on UNSCR 1325. Annika Söder, State Secretary at the Swedish Ministry for Foreign Affairs, also participated in the debate.
The conference continued with a discussion about the launch of a new book on UNSCR 1325 and women's roles in peace processes. Participants were Professor Ismene Gizelis, Dr Kyle Beardsley, Dr Ragnhild Nordås, and Dan Smith, Secretary-General at International Alert. Moderator was Dr Louise Olsson.
The day ended with a panel discussion on the relationship between peace operations and peacebuilding. Among the key speakers were Pia Stjernvall, Head of Mission, EUPOL Afghanistan, and Karin Landgren, UN Special Representative of the Secretary-General to Liberia.