Wanted: People with the intent to go on field assignments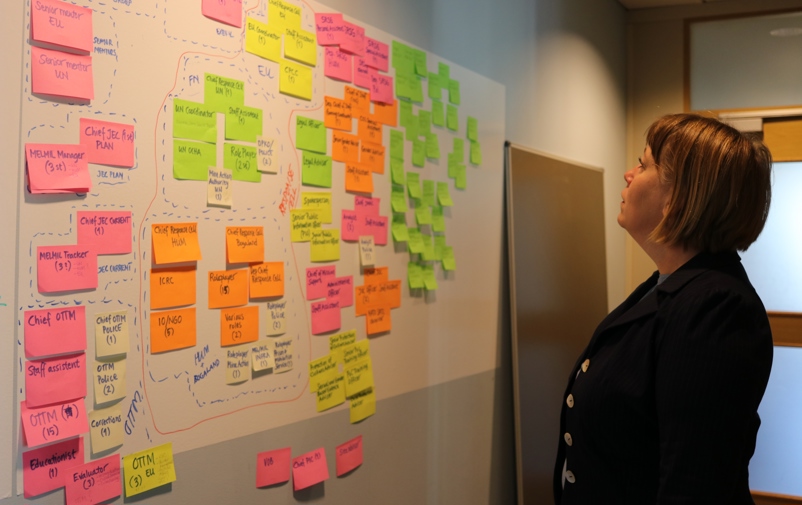 In order to reflect real international peace operations, Viking 18 has to be staffed with the right people in the right positions. It is like putting together a jigsaw puzzle. The training offers an opportunity to develop professionally and learn about civil-military cooperation. Both for those who want to progress up the career ladder and for those who want to broaden their knowledge.
There is a long list of posts that have to be staffed at the fictitious headquarters of the UN and the EU, and at the country office in the imaginary war-torn Bogaland in the Viking 18 scenario. The training takes place in an office environment, not in the field. To be realistic in spite of this, the same functions that are part of international peace operations in reality are included. From the Secretary General's Special Representative and the Head of Operations to Political Analysts and Gender Advisers.
– Our job is to make sure that there are people in the exercise. We need a training management that runs the game and makes sure that events are played in time, that the participants learn what they are supposed to and that everything is done in the right order. We also need participants, says Katrin Lindén, FBA's Manning Coordinator for Viking 18.
Approximately 185 people will be part of the civilian part of the training. But in total more than 2,000 persons participate, mostly soldiers. The Swedish Police is responsible for staffing the part of the scenario that involves law enforcement agencies such as the Swedish National Courts Administration, the Swedish Prison and Probation Service and the Swedish Prosecution Authority.
It is crucial to have a good composition of participants that reflects multinational operations in reality. In the previous Viking exercise, carried out in 2014, 66 civilian organizations and approximately 50 countries were represented. Men make up the majority of the people taking part in total, but about half of the civilian participants are women.
FBA aims for a close cooperation with international organizations that are common actors in conflict- and post-conflict contexts. For example the UN Department for Peace Keeping Operations, DPKO, the European External Action Service, EEAS, and organizations like Save the Children and the Red Cross that perform humanitarian action.
– They contribute to writing the script for the game. During the training they also contribute with staff, both staff who practice and staff that are part of the training management, Katrin Lindén explains.
Initially Katrin Lindén and her colleagues promoted Viking 18 via international networks and through meetings with established contacts within the UN and the EU. Several posts have already been filled by the organizations that have chosen to participate in Viking 18. The training management consists of experienced persons, and many have taken part in earlier trainings.
– Now we advertise in order to reach people outside of this sphere. If several organizations show an interest in the same role in the exercise we will consider who is most suited and will benefit most from practicing, says Katrin Lindén.
Participation in Viking 18 suits people who are in different phases of their professional life, she states. Those who want to go out on their first international mission. Those who have been on missions before and want to pursue a career. And those who are experts within a specific field, such as security sector reform, wanting to learn about other fields and broaden their knowledge to be able to work with something new, human rights for example. Or those who have experience from an EU mission but want to practice being in a UN mission.
– We welcome participants from the whole world. I hope to involve people who have the intention to go on field assignments, on secondment from a state agency or an organization. But also people working with international missions at headquarters and such, wanting to learn more about civil-military cooperation in practice.
Katrin Lindén emphasizes that Viking is a good opportunity to test new methods to see how they would work in practice. If I they do not work in the game there will be no real consequences.
Viking 18 takes place at four different sites in Sweden. The civilian participants will be trained at the Swedish Armed Forces regiment in the city of Enköping, where an office landscape will be created inside of a hangar. Apart from Sweden, Brazil, Bulgaria, Finland, Ireland and Serbia also take part in the exercise. They will host their own training sites, recruit their own participants and create their own parts of the game.
Read more about the development of the game
Read more about the training methods in the exercise