Learning in focus at Viking 18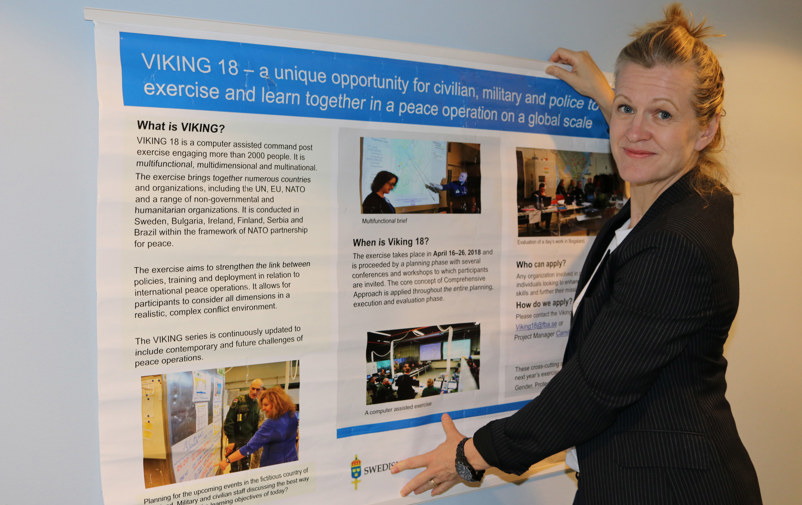 When Viking 18 kicks off in April the exercise contains a number of innovations to optimize learning. Thereby the participants will increase their competences and feel confident to work in conflict situations.
The project has its own pedagogue, Philippa Borgh who has an education in applied psychology and is specialized on learning. Her task is to develop the forms of learning, both in group and individually, for the participants to get the most out of the training.
Viking 18 goes on for ten days. It is a dense programme.
– The exercise is extremely heavy in terms of information. The limitations of our short-term memory is a challenge. Humans cannot take in too much information without processing it, she explains.
Based on her previous experience from developing modules for learning at the Swedish Police Academy and the Swedish Security Service, Philippa Borgh is convinced that a learning-centered perspective is the key to success.
– ­We have different approaches when we interpret new information and convert it to knowledge. Depending on our motivation and previous knowledge it can go faster or slower. Research shows that small amounts of information, and enough time to process it, is crucial for learning.
The planning of the exercise is in full swing. Reflection is necessary for learning. According to research we learn better when we can discuss and solve problems together with others. When people get to exchange experiences in a structured way they develop a deeper understanding that helps them build knowledge.
PechaKucha and Training in the margins are some of the new pedagogical elements that will be introduced during Viking 18.
PechaKucha is a format of presentations originating in Japan in the early 2000s. It is a fixed format where each presentation consists of 20 slides shown for 20 seconds each. This means that a presentation takes six minutes in total, which is just enough for our short-term memory to handle, according to Philippa Borgh. The purpose is to avoid tedious lectures drenched by text that makes the audience lose interest.
– It is a fun and easy-going format that forces you to find the core in what you want to say, something that the human brain likes.
Lecturers usually get concerned about the strict format. But afterwards they often get a kick when they see the good results.
Training in the margins is about creating a space for learning in addition to the exercise itself; to profit from people being present. Philippa and her colleagues work on putting together a comprehensive and interesting programme where experts in different fields can share their know-how. A kind of smorgasbord where the participants can pick and choose whatever they want to learn in order to advance their skills.
– Motivation is an incredibly important factor for learning. We hope that the programme will be appealing, and that people's curiosity and thirst for knowledge will attract participants.
To get the most out of the training, Philippa Borgh recommends the participants in Viking 18 to write down the most important things that they have learnt during the exercise. Think about how it has enriched you as a person and how it can be of use to your organization. This helps knowledge to get stuck in our long-term memory.
Read more about the development of the game
Read more about the recruitment of participants